Our Place, Our Future
Inverclyde residents are asked to engage in Our Place Our Future to help to determine what they want to see happen in their local communities and get them thinking about how they can make it a reality.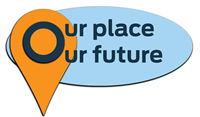 The area-wide conversation is being generated by Our Place Our Future, a project that will delve into a wide range of themes from traffic, parking, streets and spaces, to work, care, housing and local amenities. This, its first phase, is being coordinated and delivered by local community planning partnership, the Inverclyde Alliance, with funding support from the Big Lottery Fund Awards for All Scotland.
Opinion will be gathered over the next two months via a survey and series of community events. Although the Our Place Our Future survey covers 14 key topics and can be completed in print form or online, respondents can also feedback on specific questions of relevance to them. The Inverclyde Alliance survey team are also reaching out through the community events, where they will have the opportunity to spark thoughts and discussions by meeting people face to face.
Survey themes cover moving around and public transport; traffic, parking, streets and spaces; natural space, play and recreation; facilities and amenities; work and the local economy; housing and community; social interation, identity and belonging; feeling safe; care and maintenance; plus influence and sense of control.
The link to the online survey is www.surveymonkey.co.uk/r/OurPlaceOurFuture and a downloadable copy is available on this page in the documents section.
If you would like to complete a paper version of the survey you can get it to us by either dropping it in at one of the Community Engagement Events listed below or drop it off at CVS Inverclyde, Ladyburn Business Centre, Pottery Street, Greenock or the Inverclyde Council Customer Service Centre, Clyde Square, Greenock.
The Community Engagement Events programme is:
Greenock Town Hall, Wednesday 10 May, 10am - 7pm (10am - 1pm, 1pm - 4pm, 4pm - 7pm)
Branchton Community Centre, Greenock, Thursday 1 June, 6pm to 9pm
Boglestone Community Centre, Port Glasgow, Saturday 10 June, 11am to 2pm
Craigend Resource Centre, Greenock, Thursday 15 June, 6pm to 9pm
Page last updated: 2 May 2017