The Recruit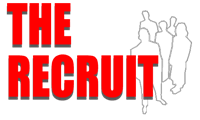 'The Recruit' is a project based on a similar premise to the popular television series 'The Apprentice', with 35 students from across schools in Inverclyde competing for the chance to win an employment contract with a starting salary of up to £14,000. Aside from providing one student with a fantastic career opportunity, the project aims to enhance the employment prospects of all participants by helping them develop the skills necessary to succeed in business. Other jobs may become available via the programme.
The students who participate on the project are selected following a recruitment campaign. A presentation is delivered to all 5th and 6th year students in Inverclyde and a number of applications to participate are received. In completing an application, students are encouraged to use their imagination and 'think outside the box'.
'The Recruit' runs from April to August and is totally extra curricular, taking place in the evenings, weekends and during the Easter and Summer holidays. The successful candidates form groups and undertake tasks and challenges which focus on developing their potential, confidence building, enhancing their employability skills, raising their awareness of business opportunities and raising expectations. Local businesses and West College Scotland support the programme and provide additional resources and expertise as part of their 'in kind' contribution.
The challenges set to the students are clearly structured and go along the following key themes:
Business Placements – visits / tours of local businesses
The Entrepreneur – making ideas work and turning a profit
Leadership – do you have what it takes to take people forward?
Employability – common approach to business excellence
Customer Service – is the customer always right?
Setting & Achieving Your Goals – being hungry for success
Monitoring & Evaluation
The Recruit has run in Inverclyde for the past 13 years and to-date 117 young people have secured employment via the programme. This year the programme's main sponsor is Diodes Inc (formerlyTexas Instruments).
Completed applications can be sent by email to jackie.fallon@inverclyde.gov.uk or by post to Jackie Fallon, Development Officer, Enterprise Centre, Port Glasgow Community Campus, Kilmacolm Road, Port Glasgow, PA14 6PP. Closing date for applications - Monday 16 March 2020 (12 noon).