Object of the Month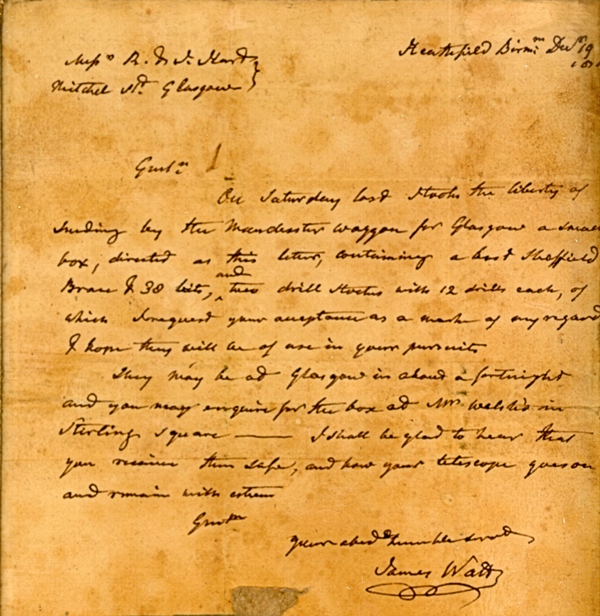 This letter was in the collection of Robert Hart of Glasgow and is in a glazed frame. Stuck onto the letter is the autograph of Dr. Herschel, dated 1810 (Sir William Herschel (1738-1822)). The text of the letter refers to a set of brace and bits gifted by James Watt to Robert Hart, a Glasgow engineer and an admirer of Watt, and his brother John.
The text is: 'Heathfield, Birm'm Dec'r 19 1815. - Messrs. R and J Hart, Mitchell Street, Glasgow. - Gent'n. - On Saturday last I took the liberty of sending by the Manchester waggon for Glasgow a small box, directed as this letter, containing a best of Sheffield Brace and 30 bits and two drill stocks, with 12 drills each, of which I request your acceptance as a mark of my regard. I hope they will be of use in your pursuits. They may be at Glasgow in about a fortnight and you may enquire for the box at Mrs Walshe's in Stirling Square - I shall be glad to hear that you receive them safe, and how your telescope goes on and remain with esteem. - Gent'n. - Your obedient and humble servant - James Watt'.
See thousands of images and records from the collections of the McLean Museum and Inverclyde Archives on our Collections Online website. Use the link on the left of this page to take you there.