Watt Institution Events & Exhibitions
Remembering Sugaropolis
We are delighted that our Remembering Sugaropolis website is now live: http://www.remembering-sugaropolis.org/ and full of interesting information and activities to learn about the hidden history of sugar. Click on the link 'Remembering Sugaropolis' in the right-hand column listed in 'Other websites'.
Remembering Sugaropolis explores the history of Greenock's sugar industry focusing on objects in the Watt Institution, stories and memories of the smells and sites of this local industry and acknowledges that this history is inextricably linked to the transatlantic slave trade. You can discover this important part of our history through engaging with video games, museum objects, story mapping and sensory oral histories. Sensory oral history helps us understand lived experiences of sugar and shipping industries and tells the stories not found in history books.
We are hoping the schools and classes will engage with the Remembering Sugaropolis website and be encouraged to share work created as a result, which will be part of a future online exhibition commemorating 'Sugaropolis'
A few Sensing Sugaropolis sensory kits and extra scratch and sniff cards are still available from the Watt Institution, strictly on a first come first served basis
For more information on learning activities please see the document 'Remembering Sugaropolis' on the right-hand cloumn under 'Documents'.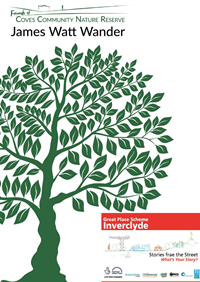 The James Watt Wander Designs
The James Watt Wander was a wonderful opportunity for an outdoor learning experience for young people.
An information resource provided practical, accessible and straightforward advice for teachers to involve their pupils in designing the James Watt Wander within the context of the Curriculum for Excellence.
We invited pupils to design a new woodland walk, the James Watt Wander, located at Coves Local Nature Reserve.
The James Watt Wander maximised learning opportunities and connected pupils with the real world outside the classroom; helping develop skills, knowledge and understanding in a meaningful context while offering a rich stimulus for creative thinking and learning.
There are opportunities during November for a guided tour around Coves Nature Reserve, a tree planting experience and the official opening of the James Watt Wander at 11am, 27th November 2020.
Coves Nature Reserve are involved in the Inverclyde Reforestation Project and have already planted over 390 saplings and will receive another 420 saplings in November donated by The Woodland Trust.
We are delighted to share digitally all the entries to the James Watt Wander from Clydeview Academy, Ardgowan Primary, Inverkip Primary, Moorfoot Primary, St Andrew's Primary, St Joseph's Primary and St Ninians's Primary.
Please click on the link on the right-hand column to view all the creative designs and look out for the winning James Watt Wander design from Laura Stewart, Ardgowan Primary.