War Dead: Greenock WW1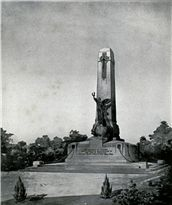 In 1924 the War Memorial Committee of Greenock published a volume to mark the completion of the Greenock War Memorial in Wellpark.
The size and scale of the Greenock War Memorial is indicative of the local sacrifice made as part of Greenock's contribution to the Great War.
In addition to discussing the War Memorial and the meaning of the symbols it incorporates the publication also records names of those who fell during the conflict and forms part of the public tribute to the fallen.
The War Memorial was unveiled in October 1924 and has been the focus of Greenock's remembrance events ever since.
The Watt Library is pleased to be able to make this publication available online as a tribute to those who fell in World War 1 and as a resource for family historians.
Page last updated: 6 August 2018