Dementia Friends at Inverclyde Libraries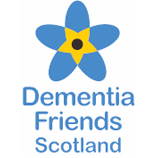 Staff across Inverclyde Libraries have received Dementia Friends Scotland training – Alzheimer Scotland's perception-changing initiative.
Staff were taught the essential skills by voluntary Dementia Friends Champions, giving them an understanding of what it's like to live with the illness, and the know-how to turn that understanding into action.

Dementia friendly communities are those in which more people understand dementia, there is less fear and avoidance, and people living with dementia are included and supported to live independently for longer. Inverclyde Libraries staff are working hard to support all those living with Dementia and those who support them.
Page last updated: 7 June 2016