Learning
Inverclyde Libraries offer a wide range of learning opportunities for learners across Inverclyde.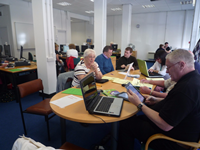 Inverclyde Libraries are committed to supporting lifelong learning in the community. We offer computer classes, creative classes, free access to on-line information and learning, self-study resources and items to borrow. We have Learning Centres in all of our branches across Inverclyde, which provide free access to PCs and much more.
In this section you will find information on the courses we run, the projects and technology we have to make our learning as accessible as possible, and information on upcoming events and classes.
Information leaflets and application forms for current courses can be found at your local library, or downloaded from this page. Alternatively if you would like to discuss your learning needs, please contact the Learning Services Team on 01475 712 322.
We look forward to hearing from you!
Page last updated: 22 September 2017