Corporate Plan 2018/22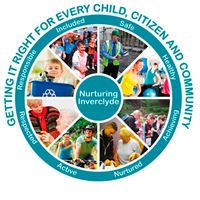 Inverclyde Council is focusing on making Inverclyde a place which nurtures all its citizens, ensuring that everyone has the opportunity to have a good quality of life and good mental and physical wellbeing. Our vision is:
'Getting it right for every Child, Citizen and Community'
This means that the Council will work in partnership to create a confident, inclusive Inverclyde with safe and sustainable, healthy, nurtured communities, and a thriving, prosperous economy, with active citizens who are resilient, respected and responsible and able to make a positive contribution to the area.
As part of the Nurturing Inverclyde approach, the Council, along with its partners in the Community Planning Partnership, the Inverclyde Alliance, are focussing on achieving wellbeing outcomes for our communities, which have been adapted from Getting it Right for Every Child. The wellbeing outcomes have been expanded so that they include all our citizens and communities in Inverclyde.
We want all our children, citizens and communities to be:
Safe - Protected from abuse, neglect or harm and supported when at risk. Enabled to understand and take responsibility for actions and choices. Having access to a safe environment to live and learn in.
Healthy - Achieve high standards of physical and mental health and equality of access to suitable health care and protection, while being supported and encouraged to make healthy and safe choices.
Achieving - Being supported and guided in lifelong learning. Having opportunities for the development of skills and knowledge to gain the highest standards of achievement in educational establishments, work, leisure or the community.
Nurtured - Having a nurturing place to live and learn, and the opportunity to build positive relationships within a supporting and supported community.
Active - Having opportunities to take part in activities and experiences in educational establishments and the community, which contribute to a healthy life, growth and development.
Respected and Responsible - Citizens are respected and share responsibilities. Citizens are involved in decision making and play an active role in improving the community.
Included - Overcoming social, educational, health and economic inequalities and being valued as part of the community.
As a key community planning partner, the Council has a central role to play in supporting the work and aspirations of the Inverclyde Alliance and this is reflected in a number of our organisational priorities. Our organisational priorities that support the delivery of the Inverclyde Outcomes Improvement Plan are:
To promote Inverclyde, to both residents and visitors alike, as a great place to live, work, study and visit

To work collaboratively to enable strong, connected and empowered communities, particularly in areas of deprivation, so that residents have influence and control over the things that matter to them

To grow the local economy in a way that creates opportunities for all our residents, including access to good quality jobs and lifelong learning

To reduce the prevalence of poverty and in particular, child poverty in our communities

To safeguard, support and meet the needs of our most vulnerable families and residents

To improve the health and wellbeing of our residents so that people live well, and for longer

To protect and enhance our natural and built environment

To preserve, nurture and promote Inverclyde's unique culture and heritage
We recognise that the way in which we work has a significant bearing on how successful we are in making a positive difference. With this in mind, we have agreed two further priorities that focus on how, as an organisation, we aim to deliver our services. These priorities are organisational 'enablers' which will ensure the delivery of excellent services that will in turn, deliver improved outcomes for the communities of Inverclyde. Our organisational priorities for the Council are:
To deliver services that are responsive to community needs and underpinned by a culture of innovation, continuous improvement and effective management of resources

To develop motivated, trained and qualified employees who deliver quality services that meet current and anticipated service needs
Click on the link in the Documents section of this page to view the Inverclyde Council Corporate Plan 2018/22. You can also assess how well Inverclyde Council is performing in our Annual Report 2019/20. The Council has also published it's Organisational Recovery Plan 2021/22 which sets out the actions required to make Inverclyde Council a more modern and fliexible organisation, building on our experience of responding to the Covid-19 pandemic. The Organisational Recovery Plan 2021/22 is also available in the documents section.