Corporate Statement
Inverclyde Council's Corporate Statement sets out the direction of travel for the Council over 2013-18, setting out its vision for the area.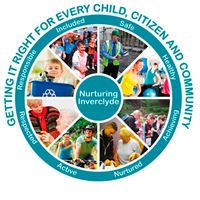 Inverclyde Council is focusing on making Inverclyde a place which nurtures all its citizens, ensuring that everyone has the opportunity to have a good quality of life and good mental and physical wellbeing. Our vision is:
'Getting it right for every Child, Citizen and Community'
This means that the Council will work in partnership to create a confident, inclusive Inverclyde with safe and sustainable, healthy, nurtured communities, and a thriving, prosperous economy, with active citizens who are resilient, respected and responsible and able to make a positive contribution to the area.
Click on the link under the Documents section of this page to view the Corporate Statement.
As part of the Nurturing Inverclyde approach, the Council, along with its partners in the Community Planning Partnership, the Inverclyde Alliance, are focussing on achieving wellbeing outcomes for our communities, which have been adapted from Getting it Right for Every Child. The wellbeing outcomes have been expanded so that they include all our citizens and communities in Inverclyde.
We want all our children, citizens and communities to be:
Safe - Protected from abuse, neglect or harm and supported when at risk. Enabled to understand and take responsibility for actions and choices. Having access to a safe environment to live and learn in.
Healthy - Achieve high standards of physical and mental health and equality of access to suitable health care and protection, while being supported and encouraged to make healthy and safe choices.
Achieving - Being supported and guided in lifelong learning. Having opportunities for the development of skills and knowledge to gain the highest standards of achievement in educational establishments, work, leisure or the community.
Nurtured - Having a nurturing place to live and learn, and the opportunity to build positive relationships within a supporting and supported community.
Active - Having opportunities to take part in activities and experiences in educational establishments and the community, which contribute to a healthy life, growth and development.
Respected and Responsible - Citizens are respected and share responsibilities. Citizens are involved in decision making and play an active role in improving the community.
Included - Overcoming social, educational, health and economic inequalities and being valued as part of the community.
We will deliver this for all our children, citizens and communities through the achievement of the local outcomes set out in the Inverclyde Alliance Single Outcome Agreement .
Page last updated: 7 October 2016