Childcare for key workers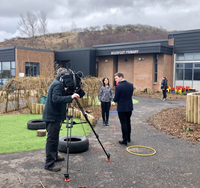 Below are are our childcare hubs.
These offer support for our key workers
Only use the childcare hubs if your situation is critical. Hubs will be open from 9am–3pm, Monday to Friday.
Queries about the hubs and offers should be made to the hubs as per the numbers on the table below.
Hub – this is where the hub will be located

Open to pupils from

Contact number from 8.30am – 3pm

Glenpark Hub

Madeira Street

Greenock

PA16 7FX

Wellpark Children's Centre

Glenpark Early Learning Centre

01475 715620

Bluebird Hub

St Joseph's Primary,

Community Wing

Wren Road

Greenock

PA16 7NH

Bluebird Family Centre

Binnie Street Children's Centre

Larkfield Children's Centre

01475 715722

Craigmarloch Hub

Craigmarloch School

Port Glasgow Campus

PA14 6PP

Craigmarloch School

01475 715345

Inverclyde Academy Hub

Inverclyde Academy

Cumberland Road

Greenock

PA16 0FB

Inverclyde Academy

Inverkip Primary

Wemyss Bay Primary

Aileymill Primary

St Andrew's Primary

St Joseph's Primary

01475 715100

Lady Alice Hub

Lady Alice Primary

Inverkip Road

Greenock

PA16 9EH

Notre Dame High

St Patrick's Primary

Whinhill Primary

Lady Alice Primary

01475 715743

Clydeview Hub

Clydeview Academy

Burnside Road

Gourock

PA19 1UX

Clydeview Academy

Ardgowan Primary

St Mary's Primary

01475 715050

Moorfoot Hub

Moorfoot Primary

Moorfoot Drive

Gourock

PA19 1ES

Gourock Primary

St Ninian's Primary

St Columba' High

Moorfoot Primary

01475 715701

All Saints Hub

All Saints Primary

Blairmore Road

Greenock

PA15 3JS

King's Oak Primary

All Saints Primary

Glenbrae Children's Centre

Hillend Children's Centre

Blairmore Nursery

King's Oak Nursery Class

01475 715640

Newark Hub

Newark Primary

Bridgend Avenue

Port Glasgow

PA14 5SU


Port Glasgow High
St Stephen's High

St Francis' Primary

St Michael's Primary

St John's Primary

Newark Primary

Kilmacolm Primary

Gibshill Children's Centre

Rainbow Family Centre

01475 715600
Page last updated: 21 April 2020