Childcare for key workers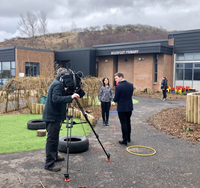 January 2021 - arrangements in place if you are a key worker and require childcare.
The Scottish Government has granted the council an exceptional closure day on 6 January 2021 to allow our establishments to plan for the following school days and beyond. This means that Inverclyde schools and early years establishments will provide childcare for the children of key workers from 7 January 2021.
We need to balance the number of pupils physically in schools with the needs for childcare. It is simply not possible to offer childcare for every pupil and we ask that you only use this facility if it is absolutely necessary.
If at all possible please use other sources of childcare where and when it is available, this is permitted in the Level 4 guidance. Our schools can be flexible and you do not have to access childcare every day.
We appreciate the stress that the arrangements can cause for families but this has to be balanced with the ongoing safety of our pupils and staff. We would like to offer childcare for all those key workers who require it but may need to prioritise if schools have too many applicants.
To be eligible to access childcare:
both parents must be key workers. In the case of a single parent they must meet the criteria below,
children should attend only when there are no alternative childcare arrangements,
key workers who are able to work from home are unlikely to be eligible
Applying for essential key worker childcare care from school and early years establishments
All parents who are key workers and meet the criteria should apply for a childcare place at their child's school / establishment by 9am on 6 January 2021 by completing the application form sent out by schools. You should return this directly to your school/establishment using the office email address.
On 6 January 2021 school and early years establishments will process applications from all parents on this day and confirm places for 7 and 8 January 2021 and week beginning 11 January 2021 with all applicants.
Childcare in schools will be delivered from 9am to 3pm. Early years establishments will inform of the specific arrangements.
In addition, schools will make contact with individual families whose children may require access to school for other reasons.
Key worker definition:
Health and care workers directly supporting COVID response, and associated staff; health and care workers supporting life threatening emergency work, as well as critical primary and community care provision; energy suppliers (small numbers identified as top priority already); staff providing childcare/learning.
All other health and care workers, and wider public sector workers providing emergency/critical welfare services (for example: fire, police, prisons, social workers), as well as those supporting our critical national infrastructure, without whom serious damage to the welfare of the people of Scotland could be caused.
All workers (private, public or third sector) without whom there could be a significant impact on Scotland (but where the response to COVID-19, or the ability to perform essential tasks to keep the country running, would not be severely compromised).
REMINDER: Communication about positive Covid cases over Christmas holidays
To ensure we are able to react to any confirmed positive cases relating to pupils over the Christmas holiday period, we would ask that parents use the email address below from 23 December 2020 if your child receives a notification of a positive COVID-19 test.
The email address is: covid.educationhq@inverclyde.gov.uk
This email address will be monitored by education staff during the holiday period.
We ask that when emailing us about a positive case that parents include key information including the name of your child, the school they attend, date of birth and a phone number for us to contact you on.