Coronavirus (Covid-19)
Latest updates include information on:
• New Covid-19 staff testing centre
• Social distancing guidance for business
• Support to put meals on tables
• Home care training
• Tower Hill parking
• Foodbank – change to service
• Business donations
• SEPA support for business
Coronavirus (Covid-19) - public information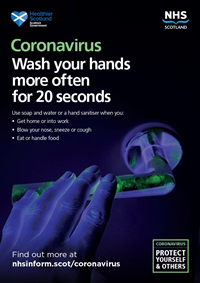 This page includes links to essential public health information including NHS Inform and Public Health Scotland.
You will also find copies of posters, such as the image on this page, to display and share on social media to help spread the essential public health messages.
The current guidance from Government is to stay at home.
The only permissible reasons to leave your home are as follows:
to shop for basic necessities and that should be limited to once a day
to take exercise once a day - but alone or with your own household, not in groups
for medical reasons or to care for a vulnerable person
to travel to essential work if that cannot be done at home.
Please follow the new rules and protect yourself and others.
Below are some updates on services in Inverclyde and, if you are an Inverlcyde Council employee working from home, we will publish employee communication updates and guidance on here as documents to download.
Inverclyde updates:
New Covid-19 staff testing centre
Social distancing guidance for business
Support to put meals on tables
Home care training
Tower Hill parking
Foodbank – change to service
Business donations
SEPA support for businessNew PPE guidelines issued
Key worker childcare hubs open over Easter
Customer services
Rental holiday available for business
Childcare hubs featured on STV
Food shopping useful information
Starter packs update
Coronavirus legislation agreed at Parliament
Funding to support GPs open on Easter holidays
Support for victims of domestic violence
Home Energy Scotland update
Car park closures and messages around use of parks and open spaces
Early years expansion deadline removed
Temporary covid-19 medical facility at SEC
Health screening programmes paused
NHS recruitment drive
Shielding
School lunch food parcels
Eye protection
Home care visits
Volunteering campaign launched nationally
Protection for tenantsChildcare for key workers
Schools
Health and social care services
Care and support at home
Care providers
Council tax
Council customers service centre
Cremeation and burials
Parking enforcement
Roads and transportation
Waste service change
Prescription service launched for Inverclyde
Public toilet closures
Contacting your councillor
Licensing services update
Inverclyde advice services
Emergency support workers
Events
Arts, culture and leisure
Third sector update
Business
Football and sports
New Covid-19 staff testing centre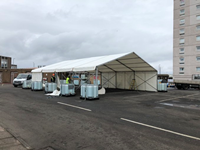 A new coronavirus (covid-19) testing centre is set to open in Inverclyde this week.
The drive through testing centre, based at Port Glasgow Health Centre, will focus on supporting NHS staff to return to work.
The testing centre will be by appointment only and testing will take place to support healthcare staff being able to return to work if they could need to self-isolate for 14 days as someone they live with has symptoms.
The person with symptoms will be tested to find out of the worker is able to return to work.
A second group of staff may also be tested and these would be symptomatic healthcare workers however this is not yet agreed. Whilst there is a pathway in place for NHSGGC staff to be referred for testing the process for testing non NHS staff still requires to be agreed at a board level and we would wish to prioritise a number of staff such as care at home staff.
Testing consists of a nasal and throat swab and in some circumstances a sputum sample. No clinical assessments will take place on site, where someone is unwell and deteriorating they should follow the advice to telephone NHS 111 where they may be diverted to the Greenock community assessment centre.
During the testing the person remains in the car. It is expected to be open Mon - Fri from 9am until late afternoon, though this is still to be finalised..
It will have a working capacity of 100 tests per week initially and staff will wear the appropriate personal protective equipment (PPE) as specified in national guidance.
A full operating procedure is in place and Inverclyde HSCP is being supported by colleagues from Public Health to ensure it is delivered to the agreed standards.
The site is at Port Glasgow Health Centre staff car park. A marquee has been erected and the area fenced off.
Entrance to the site, which is by appointment only and drive thru, is from Bay Street adjacent to the swimming baths and a temporary traffic order to suspend parking in this area will be in force from today (Monday 6 April 2020). Exit is via the existing one-way exit in to the council car park. Wardens will be on site to support flow of traffic in and out of centre. Additional CCTV is also being put in place and Police Scotland have been made aware that the site is being readied.
Social distancing guidance for business
The Scottish Government has issued updated social distancing guidance for businesses in Scotland to help provide clarity on protecting employees in the fight against coronavirus (covid-19).
It provides further information for employers and makes clear that those providing essential services must follow social distancing requirements.
It asks that the owners of businesses and operators of workplaces not required to close by law to consider whether what they do is essential to the efforts in the fight against the virus or benefit the wellbeing of society.
It also asks those employers if they can demonstrate and provide their workforces with reassurance that they are consistently practising safe social distancing and complying with all other standard health and safety requirements.
If the answer to either of these questions is no, workplaces are advised to close.
The guidance is published at: https://www.gov.scot/publications/coronavirus-covid-19-business-and-social-distancing-guidance/
Support to put meals on tables
A joint Scottish Government and COSLA statement was issued this weekend about food funding for councils:
Families unable to access food as a result of the coronavirus (COVID-19) outbreak will get support from local authorities with £30 million of new investment from the Scottish Government Food Fund.

The funding will support those most in need including families with children who are eligible for free school meals, older people, those with long-term health conditions and pregnant women.

Councils will have flexibility to use this additional resource in ways that best meet emerging local needs and circumstances, working with community groups and businesses to support home delivery, provide financial help and meet dietary requirements.
Allocations include more than £4.7 million for Glasgow, £2.2 million for Fife and £2.1 million for North Lanarkshire.

The funding, one part of the £350 million Communities Fund, will be distributed to councils across Scotland by COSLA.
Communities Secretary Aileen Campbell said:
"This pandemic is impacting on all our lives but for some it is more than a disruption, it is severely restricting their ability to access food for themselves and their families.

"It is vital that we work together to ensure the most vulnerable people in our communities receive the support they need.

"Local authorities are uniquely placed to respond swiftly in partnership with community groups and organisations to help those struggling.

"We know that free school meals are vital for families across the country and an important way of ensuring their children receive the nutritious food they need. That is why it is so important that support continues while schools remain closed.
"This fund will help ensure the most vulnerable people in our society during this outbreak receive support. The guidance shared with local authorities today supports local thinking about how funding can best be targeted and deployed."

COSLA Children and Young People spokesperson Councillor Stephen McCabe said:

"Access to food is a current and vital concern for many people in our communities. Councils are committed to working flexibly, ensuring local access for those who are vulnerable or isolating and to maintain access to free school meals for entitled families.

"Local Authorities will continue to work with and for local people to ensure provision that is right for them. We welcome the food fund guidance produced by Scottish Government that supports this local decision making."
COSLA Resources spokesperson Councillor Gail Macgregor said:

"As a result of Covid-19, greater numbers of people are at risk of food insecurity. Councils are facing additional challenges in ensuring food reaches those most in need.

"In these challenging times, we welcome the Scottish Government's announcement of additional funding."
Background

The £350 million Communities Fund was announced by Communities Secretary Aileen Campbell on 18 March 2020.

Since it was announced, over £100 million of new support has been delivered to local authorities to assist their efforts. This includes £50 million in hardship funding, £22 million to bolster the Scottish Welfare Fund and £30 million from the Food Fund.

The guidance shared with local authorities outlines seven key principles to support local thinking about how funding can best be targeted and deployed.

People worried about food during the COVID-19 crisis should contact their local authority for further information on the help and support available to them.
| | | |
| --- | --- | --- |
| Local authority | Allocation (millions) | |
| Inverclyde | 0.565 | |
Home care training
A second call was issued last week to council and HSCP staff to volunteer to support the care at home service. Training is provided and this week 33 people are being trained to allow them to work with the team that supports our vulnerable residents.
Tower Hill parking
Vehicle access to Tower Hill in Gourock will be restricted from today (Monday 6 April 2020) to support social distancing rules and avoid people driving large distances to beauty spots.
Foodbank – change to service
The i58 Project – Inverclyde Foodbank has changed their service delivery.
Clients will no longer have to collect their food parcels from the foodbank in Greenock and instead it will be delivered to their home. It is important that when making the referral that a contact number is provided for the client for the foodbank to contact them.
The foodbank will be delivering parcels Monday, Wednesday and Friday between 2pm and 4pm. The foodbank premises will still be open if clients turn up to collect, however they will require a valid referral as normal.
Business donations
A range of local businesses have come forward to offer kind donations to support key workers manage the response to coronavirus (covid-19). Diodes has donated a range of PPE and continues to offer its support using its own supply chain. The team at Kwik Fit have today (Monday 6 April 2020) donated a range of equipment to support health and social care services including aprons and car seat covers. The council and HSCP will carry out publicity to thank them for their kind donations.
SEPA support for business
The Scottish Environment Protection Agency (SEPA) today [6 April 2020] confirmed the next steps in its regulatory approach in response to the COVID-19 pandemic.
In a strategic statement from SEPA Chief Executive, Terry A'Hearn and Chairman, Bob Downes, the agency outlines the philosophy it will follow to supporting the 33 sectors of the economy it regulates, in addition to the 13 critical national infrastructure sectors identified by Scottish Government. A separate 'over-arching' approach document outlines the agency's approach to compliance, enforcement, monitoring, permitting and regulatory position statements in the immediate period.
The response, outlined on a new SEPA Coronavirus (COVID-19) website, aims to support the national focus on food security, the provision of clean water and the maintenance of critical infrastructure and support services by helping Scottish businesses adapt in this next period.
The site will also host temporary regulatory positions and guidance which will be published in the coming days in response to specific issues across sectors and regulated businesses.
Terry A'Hearn, Chief Executive, Scottish Environment Protection Agency, said:
"Scotland, as are many nations, is facing a public health emergency unprecedented in recent times. SEPA will play our role in working together with other regulators, public and private sector organisations and communities to help Scotland respond. With our statutory purpose focused on protecting and improving the environment and human health in ways that, as far as possible, create social and economic success, we will help Scottish businesses adapt to this next period.

"The Scottish Government has designated 13 critical national infrastructure sectors vital to the functioning of society. Many of these are sectors we regulate and we'll help that national focus on food security, the provision of clean water and the maintenance of critical infrastructure and the support services on which we all rely.

"We know that all businesses we regulate are trying to operate in extraordinary circumstances. We know they are trying to look after the health of their own workforces. We know they may have supply-chain and other challenges."

"So, where businesses are unable to fully meet their compliance obligations, they should prioritise conditions which directly protect the environment over those of an administrative nature. They should contact SEPA, work closely with us and document the choices and actions they take.

"The positions are a direct response to circumstances no-one wanted to see. We ask Scottish businesses to adapt responsibly and we expect the majority will. Our message is clear: if you try to do the right thing in this next period, you will find a helpful and supportive regulator. If you deliberately do the wrong thing, you'll get the uncompromising regulator your behaviour deserves."

Mr. A'Hearn added: "we will continue to use a variety of means of checking and assessing compliance, including phone calls, issuing written advice, remotely managed technologies such as drones, targeted site and field visits, and other forms of intelligence gathering.

"We will be proportionate in our approach to enforcement and monitoring by regulated businesses and where SEPA is not fully able to undertake its planned monitoring, we will maintain a field and laboratory standby position. This will enable us to respond to incidents with the highest environmental risk and impacts on the health and wellbeing of communities."
The updates can be found in full on SEPA's Coronavirus (COVID-19) Response hub.
New PPE guidelines issued
New guidelines for personal protective equipment (PPE) has been issued.
In publishing the guidance the Chief Nursing Officer and Chief Medical Officer for Scotland highlighted:
The In response to the emerging epidemiology and evidence, urgent work has been under way to review the existing UK-wide Personal Protective Equipment (PPE) guidance and today the revised guidance will be published.
This guidance is issued jointly by the Department of Health and Social Care, Health Protection Scotland (HPS), Public Health Wales, Public Health Agency Northern Ireland, Public Health England (PHE) and NHS England as official guidance and can be accessed via the COVID-19 section of the Health Protection Scotland (HPS) website.
It outlines what PPE frontline health and social care workers should be wearing in different settings and scenarios. The guidance has had input from Royal Colleges and is endorsed by expert scientific groups.
The updates reflect the fact that COVID-19 is now widespread in the community, meaning clinicians and care workers are more likely to see people with the virus, some of who will not have symptoms yet.
The guidance itself recommends the safest level of PPE to protect health and social care workers and it specifies the type of PPE that should be worn in the various healthcare and social care settings where patients or residents could be cared for.
COSLA statement on PPE
Local government body COSLA has issued the following statement about the new PPE guidance:
COSLA has been urging Scottish Government to provide guidance to the Local Government workforce for the range of essential services it provides and we are pleased that this has now been done. We recognise that this is a very worrying time for the workforce and COSLA has been working closely with our Trade Union partners to develop FAQs which the workforce can easily access. The guidance and FAQs are science led and designed to give our valued Local Government Workforce the reassurance that they both want and deserve at this time.
COSLA President Alison Evison said: "This is information that our workforce can trust and be fully confident in. I have said since day one of this Pandemic that the Local Government workforce across our communities is doing an amazing job and we need to do everything we can in partnership with Scottish Government and Trade Unions to protect, support and safeguard these vital workers and the Guidance and FAQs does this.
"Where PPE is needed, Scottish Government must now ensure that there is sufficient supply and effective distribution. We will work closely with the Scottish Government to Provide information as required for PPE across Local Government."
Johanna Baxter, Head of Local Government, UNISON said: "UNISON welcomes the joint work undertaken with COSLA to address members' concerns. We also welcome the clarity provided by this revised National guidance and it is right and appropriate this guidance is science-led.
"It should provide a level of reassurance to our members that they will be able to use their professional judgement to assess the appropriate PPE needed for the vital roles they are undertaking.
"The government now need to ensure, as a matter of urgency, that there are sufficient PPE supplies made available to protect those who are working hard to protect all of us."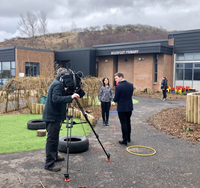 Key worker childcare hubs open over Easter
Parents who are key workers requiring childcare should make contact with the hub linked to your child's school/establishment. Hub contact details are published at www.inverclyde.gov.uk/coronavirus
Childcare hubs should be used by key workers if their situation is critical. Our hubs are open over the Easter holiday period including bank holidays.
Moorfoot primary childcare hub featured on BBC Radio Scotland's Good Morning Scotland programme on Friday (3 April) and again that night on TV on the BBC's Reporting Scotland evening news.
Customer services
The council's customer services centre will change its times to 9am – 3pm (Monday to Friday) from Monday 6 April 2020.
Rental relief available for businesses
Businesses renting properties from Inverclyde Council could have their rents deferred for up to 24 months to support businesses struggling with the effects of coronavirus (covid-19).
A deferral would result in invoices continuing to be issued in normal terms however the repayment of the invoices could be spread over a fixed period, negotiated with the lessee of up to 24 months from date of issue. This relieves the immediate burden on cash flow on the business but still ensures that the terms of the lease are fulfilled.
Childcare hubs featured on STV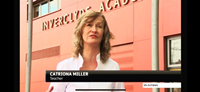 Childcare for key workers featured on the national STV news last night. The report was carried out ensuring social distancing was adhered to and featured young people talking about the importance of providing childcare for their parents as key workers.
The full programme is available on the STV player at: https://player.stv.tv/summary/stv-news-at-six and a clip of the Inverclyde piece is published on the council's social media channels.
Starter packs update
The following update has been issued by starter packs:
The office is open Monday to Thursday from 9am to 1pm for anyone requiring a starter pack and to enable them to pick up within these hours.
The address is: Starter Packs Inverclyde, Unit 2, Empress Court, Greenock, PA15 4RW
Food shopping
CVS Inverclyde has compiled this useful list of organisations and businesses supporting the community through food and shopping:
Scouts - leaders are shopping locally for anyone isolated – 07903445955
Inverclyde Home Fresh – farmers market produce – no minimum order via email or text, £10 min order online. One man business so currently needing a weeks-notice for produce – free delivery to Inverclyde – 07412013352, www.homefreshinverclyde.co.uk inverclydehomefresh@hotmail.com
Robert Alexander Butcher – delivery service only throughout Inverclyde – free delivery – order online at www.alexanderbutchers.co.uk or call 01475 741399
Co-op Eldon Street – volunteer run delivery service for elderly and self-isolating ONLY – 01475 727762
Tesco – elderly shopping hours Monday, Wednesday & Friday – 9am-10am (Port Glasgow and Greenock)
M&S – Monday and Thursday elderly and vulnerable shopping mornings (first hour of opening)
Iceland – Elderly, vulnerable and Key Workers opening, first hour of opening every day
Morrisons – have a dedicated first hour of opening for elderly, vulnerable and NHS staff
Aldi – everyday, key workers will take priority in queues into stores after showing ID. They can also gain early access on a Sunday, 30 minutes before opening time
Phil's Bakery, Gourock – providing baked goods delivered – 01475 630679
Harry Lalley Day-Today – Delivery of essential items only, £5 min order due to free delivery – all of Greenock, Gourock, Inverkip & Wemyss Bay – call 07867492509 (Harry), 01475 632986 (Auchmead Rd Store), 01475 631390 (Fife Road Store)
McCaskie Butchers, Wemyss Bay – delivery service of butcher products, order online at www.mccaskiebutcher.co.uk or call 01475 520192
Premier, Sinclair Street – offering deliveries – 01475 808030
Costcutter, Captain Street – delivery of essentials, free for people 70+ - call 01475 731678 or order via www.just-eat.co.uk
Duncan Mackenzie Craft Butcher – free delivery available in Inverclyde, also have some essential food items in stock – call 01475 791677, 07368320423 or 07984610921
M.V.M Fruit and Veg – telephone orders only, must leave name, address, order details and postcode - call 01475 785000
The Platter Merchant, Fishmongers – deliveries only – call 07725348160
Colin Love Fishmonger, Kilmacolm – priority to elderly customers, should give 24-hour notice of when needed – call 01505 872030
Belville Community Gardens - will supply food/hygiene boxes to those self-isolating who don't have the means to order one (no internet, credit card, friends/relatives etc.). If required, phone Belville on Tel. 01475 726034 with name, address, tel no of person who requires delivery. Any allergies or items the person particularly needs. All details are deleted after delivery.
Coronavirus legislation agreed at Parliament
The Scottish Parliament unanimously supported new emergency powers to help protect the public, maintain essential public services and support the economy during the coronavirus (COVID-19) outbreak.
The Coronavirus (Scotland) Bill adjusts the law on evictions to protect people renting their homes in the private and social sector. The Bill delivers new provisions that are designed to ensure businesses, consumers and public services continue to operate effectively and makes necessary adjustments to the criminal justice system to ensure essential services continue.
People and some small businesses that are unable to repay debts due to the outbreak will be able to apply for a six-month 'breathing space' period. This will allow them to seek money advice and find long-term solutions to repay debts.
The Bill also allows licensing authorities to extend the deadlines for licence applications that allow the sale and supply of alcohol, and taxi and private hire. This flexibility will help to minimise the risk of losing current licensing rights due during the outbreak.
Below is a useful guide produced by the Convention of Scottish Local Authorities (COSLA) outlining some of the key changes for local government.
COSLA CORONAVIRUS BILL BRIEFING
The below provides an overview of the provisions in the Bill as relevant to local authorities:
Allow local authorities to exclude the public from local authority meetings on public health grounds - if the local authority considers that, if members of the public are present, this would create a real or substantial risk to public health, specifically relating to infection or contamination by coronavirus.
Allow local authorities and other public bodies to publish documents online, in place of requirements to make them available in hard copy.
Allow local authorities and public bodies to postpone requirements to publish reports on a particular date or during a particular period (Further clarification is required but the Bill states that the Scottish Ministers or a Scottish public authority may decide to postpone complying with such a duty if they consider that doing so would impede their ability to take action to combat coronavirus. If they decide to do so they must publish a statement to that effect, on or before the date the report is due or as soon as reasonably practical afterwards. This applies to statutory duties, within the competence of the Scottish Parliament to amend)
Provide that where a full planning permission or planning permission in principle would expire during the relevant period then that permission should not lapse for a period of 12 months from the date on which the provisions come into force, irrespective of that development having not been commenced. The permission would only lapse if development has not commenced before the end of the 12 month period.
Extend the deadline for public bodies to respond to Freedom of Information requests from 20 days to 60 days.
Increase the minimum eviction notice period for private and social tenants to up to six months, as long as there are not grounds involving antisocial or criminal behaviour, or if the landlord needs to move into the property themselves.
Coronavirus Bill – child care, protection and justice, and health and social care provisions:
Requirements as to members of children's hearings -The Bill relaxes the requirement for three panel members, and for a male panel member to be on each hearing.
Child protection orders - Following the emergency placement of a child under a CPO, the Bill excises the requirement for a 2nd working day hearing and amends related timescales.
Maximum period for which a compulsory supervision order has effect - No compulsory supervision order shall lapse if its original end date has past, except where it has not otherwise been reviewed and continued within 6 months of its expiry date.
Period within which children's hearing must be heard in certain cases - Following urgent transfers of children into certain placements the Bill amends the time limit for a hearing to be held to 7 days, instead of 3 days.
Foster and kinship care - The Bill removes the requirement on foster panels to make recommendations about the maximum number of children a particular foster carer may have in their care at any one time.The Bill also enables a local authority to place a child with a kinship carer, in an emergency, for a period not exceeding 5 working days, instead of 3 working days.
Maximum period for which interim compulsory supervision order or interim variation of compulsory supervision order has effect - The Bill provides that the maximum period for which an interim compulsory supervision order has effect is 44 days rather than 22 days.
Modification of certain time limits for making and determination of appeals - The Bill extends the time limits for the making, disposal or determination of appeals or the making or lodging of a range of court applications.
Attendance at children's hearings - The Bill makes changes to facilitate the remote attendance of people who have right to attend a children's hearing in person.
Authentication of children's hearings documentation - The Bill enables the Reporter or chairing panel member to electronically authenticate documents.
Secure accommodation -In emergency cases, the Bill extends the maximum time in which a child may be kept in secure accommodation on the authority of the chief social work officer from 72 to 96 hours
Courts and tribunals - Participants in a criminal or civil proceeding in court to appear via video or audio link from elsewhere, and some procedural hearings could be held entirely over the internet. The legislation also extends the time limits which usually exist for criminal proceedings.
Early release of prisoners – Powers to release some prisoners early should so many prisoner officers and staff fall ill that it is no longer safe to operate prisons at their
current population levels.
Adults with incapacity - Extending guardianships for adults with incapacity, extending the period of existing certificates to authorise medical treatment, and amending provision of services to adults with incapacity to amongst other things expedite discharge from hospital.
The Civic Government (Scotland) Act 1982 deals with a range of local government licensing functions – from taxis to scrap metal dealers and market operators. Where a local authority doesn't reach a decision on a licence application within nine months, the 1982 Act provides for the licensing in question to be automatically granted or renewed. This requirement is intended to ensure decisions which have significant implications for people's livelihoods are made timeously. However, it could also result in licences being issued to people who were not suitable (termed "fit and proper" in the legislation). And it could mean that licences were issued without appropriate conditions. Paragraph 1(2) of Part 1 to Schedule 6 of the Bill extends the maximum time frame for local authorities to reach a decision on licence applications and renewals from nine to 12 months.
Once the Bill has completed its Parliamentary process, The Scottish Government will provide high-level guidance to assist public bodies identify the provisions that are likely to be relevant and action they need to take.
The Scottish Parliament Information Centre (SPICe) also published, in advance of the Bill, a briefing available online at: https://spice-spotlight.scot/2020/03/31/coronavirus-scotland-bill-spice-briefing/#Schedule5
Funding to support GPs open on Easter holidays
The Scottish Government has announced additional funding of £15 million to be provided to GP practices to help them cope with extra pressures arising from coronavirus (COVID-19).
Around a third of the funding is intended to allow practices to remain open on Good Friday and Easter Monday if it is safe to do so – helping to alleviate pressures on out-of-hours services.
The remainder will help to cover costs of equipment, additional non-clinical staff, GP partners and locum cover for sickness leave.
Support for victims of domestic violence
Extra funding has been announced to support the safety and well-being of women and children who are at risk of experiencing violence during the coronavirus (Covid-19).
Grants from the Scottish Government's £350 million 'communities fund' have been made to Scottish Women's Aid and Rape Crisis Scotland to ensure that access to these key support services is maintained and victims still have access to methods of reporting crimes during the crisis, including using online video platforms, text messaging and phone calls.
Scottish Women's Aid will receive £1.35 million over six months and Rape Crisis Scotland will receive £226,309 over six months.
Scotland's 24hr domestic abuse and forced marriage helpline is available on 0800 027 1234.
Rape Crisis Scotland Helpline is available on 08088 01 03 02. Calls to this number are free. Or email support@rapecrisisscotland.org.uk or text 07537 410027.
Home Energy Scotland update
Below is an updates issued by Home Energy Scotland:
Home heating and energy use will be affected by people staying home to avoid picking up coronavirus - free, impartial advice from friendly advisors who are determined to help
Householders in Scotland could face higher energy bills as a result of Lockdown, especially if required to work from home using IT equipment. The Scottish Government's Home Energy Scotland advice service can support people whose home heating and energy use is affected by the coronavirus (COVID-19) outbreak.
Determined to help, the free and impartial energy advice service is open as usual, with telephone advisors working safely from home to help householders worried about their energy bills or struggling to stay warm at home.
Advisors can help with any questions people may have around staying warm and saving energy whilst self-isolating, working from home, or getting to grips with home-schooling duties. The team has the latest information from energy suppliers who have agreed emergency measures to make sure vulnerable people and those with prepayment meters do not get cut off during the coronavirus outbreak. Advisors can also help with practical advice and energy saving tips to help ease pressure on household finances.
Robbie Dalrymple, Home Energy Scotland Advice Centre Manager said:
"Many of us will be spending more time at home over the next few weeks and maybe months – and while your top priority will be keeping yourself and your family safe, you might be worried about the effect this will have on your energy bills.
"Home Energy Scotland is funded by the Scottish Government and here to help. Our service is free and impartial, and we are committed to keeping people across Scotland warm and in control of their energy use and spend.
"If you are, or someone you know is worried about energy bills, contact a friendly advisor free on 0808 808 2282, Monday – Friday 8am – 8pm and Saturday 9am – 5pm."
For the latest information from Home Energy Scotland and top tips for saving energy, visit www.homeenergyscotland.org
Car park closures
To support the stay at home guidance, car parks at parks and open spaces operated will be closed in several locations across Inverclyde.
The car parks to be closed to vehicles today (Tuesday 31 March) are:
Lunderston Bay
Parklea
Battery Park
Inverkip
Greenock Cut
Overton Road car park
While many parks and open spaces remain open to walkers, the aim of this action is to limit the number of people travelling to parks and open spaces by car and breaching the stay at home guidance.
The broad message below will form part of our communications with residents:
Stay at home guidance – parks and open spaces

During this time of restrictions, it is important that we all stay active, for our physical health and mental wellbeing.

Recreation outside is an important part of this, but it is essential that each of us practise good social distancing while outside. You should not travel to access the outdoors, and your time spent outside exercising should be done close to your home rather than travelling elsewhere.

Playground equipment and play areas are currently closed. This decision was taken to reduce the potential for transference of the virus from the surfaces. As the playgrounds are closed, the equipment is no longer subject to safety inspections.

If you live close to a play park, the open space is still available to you, but please do not allow young ones to play on the equipment. Please also observe social distancing as guided by government.

We want you to discover Inverclyde's landscape, leisure opportunities and natural beauty but not right now.

During this unprecedented time, these facilities should be considered out of bounds to anyone who does not live within short walking distance. Please do not travel to these locations. Once the current restrictions are lifted we will welcome you back and we want you to discover all of the leisure opportunities we have.

At this moment, we ask that you comply with the national guidance and stay at home.

Your help and understanding is essential at this challenging time. It is only by us all working together, following Government advice, that we can defeat this, save lives and protect the NHS.
Early years expansion deadline removed
Local authorities will no longer be legally obliged to deliver 1140 hours of funded childcare from this August.
Ministers have laid an order in the Scottish Parliament to revoke the statutory duty, allowing local authorities to focus on the coronavirus pandemic response.
Minister for Children and Young People Maree Todd and COSLA spokesperson for Children and Young People Councillor Stephen McCabe have issued a joint statement.
"Before the extent of the Covid-19 pandemic became clear a couple of weeks ago, Audit Scotland confirmed we were on track to deliver 1140 hours of early learning and childcare from August 2020. Indeed, Councils had already built or refurbished hundreds of buildings and recruited thousands of additional staff, and in excess of 50,000 children were already receiving more than the current entitlement of 600 hours.

"That progress was driven by and a testament to the strong partnership working between central and local government throughout the expansion programme. Our commitment to delivering the expansion, and to making sure our children have access to the best support and opportunities for development in their early years, remains undimmed and our partnership working will continue with that aim.

"However, in these exceptional circumstances it is not realistic or reasonable to expect that local authorities can deliver their original expansion plans to secure high quality experience for all children in time for August this year. The COVID-19 pandemic has made it impossible to continue with the planned recruitment and infrastructure projects required to support expansion. As we focus on saving lives and looking after people most vulnerable to the virus the immediate priority is to ensure that we have the emergency childcare in place to support families during the Covid-19 pandemic.

"To support local government with this critical response work, the Scottish Government has now moved to suspend the statutory duty on local authorities to provide 1140 hours of early learning and childcare from this August.

"Tens of thousands of children have already benefited from expanded hours, and we expect this will continue when normal provision resumes. Once there is a clearer picture of the impact and duration of the pandemic response measures, we will work together to agree the right time to reinstate the statutory requirement and ensure that all eligible children can access 1140 hours of high quality early learning and childcare."

Temporary covid-19 medical facility
A temporary hospital with an initial 300 beds is to be created in the Scottish Events Campus (SEC) in Glasgow to increase patient capacity during the coronavirus (COVID-19) pandemic.

Health screening programmes paused
The Scottish Government has announced that a range of health screening programmes are to be paused to allow NHS resources to be dedicated to tackling coronavirus (covid-19).
Due to the rapidly changing situation with Coronavirus (COVID-19) the Scottish Government is to temporarily pause a number of screening programmes.
In practice this means no additional patients will be invited for screening until further notice. Results for those who have recently been screened or who have completed and returned home test kits will continue to be processed.
The move means healthcare staff can be re-allocated to support other essential services, including COVID-19 laboratory testing and covering for colleagues who are unwell or self-isolating.
Because members of the public are already choosing not to attend appointments, a structured pause also helps ensure people will not miss their screening altogether.
The paused programmes are as follows:
Breast Screening (mammograms)
Cervical Screening (smear tests)
Bowel Screening (home test kits)
Abdominal Aortic Aneurysm (AAA) Screening (ultrasound of abdomen)
Diabetic Retinopathy (Eye) Screening (images taken of the eye).
Pregnancy and Newborn Screening Programmes, including tests offered during pregnancy and just after birth, will continue where logistically practical.
NHS recruitment drive
More than 2,300 applications have been received in less than one week following a major recruitment drive by NHS Greater Glasgow and Clyde (NHSGGC) to take on additional staff to help combat coronavirus (covid-19). 
An immediate call from NHSGGC to increase its staff bank workforce to fill roles for estates and facilities staff, healthcare support workers, registered staff nurses and Allied Healthcare professionals will provide significantly more capacity at the frontline in coming weeks and months. 
This first cohort of circa 1,000 new bank staff will bolster Greater Glasgow and Clyde's workforce and play an integral role in the delivery of services during a crucial period. 
The move forms part of a wider mobilisation plan to manage a significant increase in the number of coronavirus (covid-19) cases being treated in hospitals and in the community, while also ensuring non- coronavirus (covid-19) patients continue to receive care. 
All vacancies within NHSGGC can be found by visiting: https://apply.jobs.scot.nhs.uk/
Shielding
Shielding is a measure to protect people who are clinically extremely vulnerable by minimising all interaction between those who are extremely vulnerable and others.
The Government is strongly advising people with serious underlying health conditions (listed below), which put them at very high risk of severe illness from coronavirus (COVID-19), to rigorously follow shielding measures in order to keep themselves safe.
Underlying health conditions:
Solid organ transplant recipients.
People with specific cancers:
-people with cancer who are undergoing active chemotherapy or radical radiotherapy for lung cancer
-people with cancers of the blood or bone marrow such as leukaemia, lymphoma or myeloma who are at any stage of treatment
-people having immunotherapy or other continuing antibody treatments for cancer
-people having other targeted cancer treatments which can affect the immune system, such as protein kinase inhibitors or PARP inhibitors
-people who have had bone marrow or stem cell transplants in the last 6 months, or who are still taking immunosuppression drugs
People with severe respiratory conditions including all cystic fibrosis, severe asthma and severe COPD.
People with rare diseases and inborn errors of metabolism that significantly increase the risk of infections (such as SCID, homozygous sickle cell).
People on immunosuppression therapies sufficient to significantly increase risk of infection.
Women who are pregnant with significant heart disease, congenital or acquired.

Planning meetings have been taking place to map out the council and health and social care support for the national 'shielding' plans to support extremely vulnerable residents.

A phone-line has been installed to provide a local contact support to people in Inverclyde receiving national communication about this from the NHS.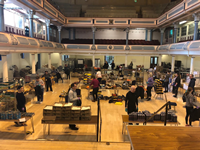 School lunches food parcels
Food parcels were delivered to 2,500 homes across Inverclyde to provide support to families entitled to free school meals and clothing grants.

Parcels were prepared at Greenock Town Hall and delivered across the area over the weekend.
Eye protection
The council's health and safety service is examining eye protection in council schools to assess its potential use to support colleagues in health and care where this is required.
Any appropriate eye protection will be made available to health and social care staff while schools are closed.
Home care visits
5,665 care at home visits have been carried out this weekend by the care at home service both council and external providers. A message will be shared on social media thanking all our staff and providers for providing this level of service during the coronavirus (covid-19) pandemic.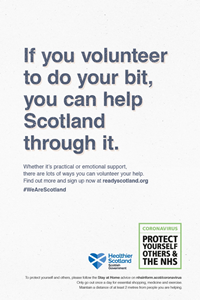 Volunteering campaign launched
A national volunteering campaign has been launched by the Scottish Government.
The 'Scotland Cares' campaign has been launched by the Scottish Government to encourage people to volunteer during the coronavirus (COVID-19) pandemic.
Those wanting to volunteer to support their communities have three options which are signposted from the Ready Scotland website:
returning NHS workers will be directed to existing voluntary arrangements in NHS Scotland
people wishing to offer their support to our public services, including the NHS and local authorities, will be directed to a site co-ordinated by the British Red Cross
those looking for opportunities with other charities or community groups in their area will be directed to Volunteer Scotland for information
Tenants to be given extra protection
The Scottish Government has announced that private and social tenants will be given increased protection from eviction during the coronavirus pandemic.
Emergency legislation will increase the minimum notice period for private and social tenants to up to six months depending on the grounds used, helping to protect them from eviction.
The Coronavirus (Scotland) Bill, to be introduced to the Scottish Parliament on 31 March, will contain substantial further powers and measures to ensure essential public services can continue throughout the coronavirus outbreak.
Childcare for key workers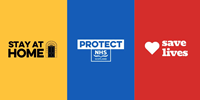 Schools will communicate with parents who are key workers, in line with the Scottish Government's three categories, by the end of today. (Tuesday 24 March)
We are prioritising applications. Our staffing capacity may not allow us to offer places to all key workers, however, we are doing our best to meet demand. The advice remains, only use the childcare hubs if your situation is critical. Hubs will be open from tomorrow (Wednesday 25 March) from 9am–3pm.
We will do our very best to meet demand and may be able to extend our offer as the days progress and uptake becomes clear.
Queries about the hubs and offers should be made to the hubs as per the numbers on the table below.
UPDATE: As of Friday 3 April, the Rainbow Family Centre childcare hub has closed with children instead being accomodated at Newark Primary School. This is due to low numbers and to ensure centres are not being kept open unneccessarily.
Hub – this is where the hub will be located

Open to pupils from

Contact number from 8.30am – 3pm

Glenpark Hub

Madeira Street

Greenock

PA16 7FX

Wellpark Children's Centre

Glenpark Early Learning Centre

01475 715620

Bluebird Hub

St Joseph's Primary,

Community Wing

Wren Road

Greenock

PA16 7NH

Bluebird Family Centre

Binnie Street Children's Centre

Larkfield Children's Centre

01475 715722

Craigmarloch Hub

Craigmarloch School

Port Glasgow Campus

PA14 6PP

Craigmarloch School

01475 715345

Inverclyde Academy Hub

Inverclyde Academy

Cumberland Road

Greenock

PA16 0FB

Inverclyde Academy

Inverkip Primary

Wemyss Bay Primary

Aileymill Primary

St Andrew's Primary

St Joseph's Primary

01475 715100

Lady Alice Hub

Lady Alice Primary

Inverkip Road

Greenock

PA16 9EH

Notre Dame High

St Patrick's Primary

Whinhill Primary

Lady Alice Primary

01475 715743

Clydeview Hub

Clydeview Academy

Burnside Road

Gourock

PA19 1UX

Clydeview Academy

Ardgowan Primary

St Mary's Primary

01475 715050

Moorfoot Hub

Moorfoot Primary

Moorfoot Drive

Gourock

PA19 1ES

Gourock Primary

St Ninian's Primary

St Columba' High

Moorfoot Primary

01475 715701

All Saints Hub

All Saints Primary

Blairmore Road

Greenock

PA15 3JS

King's Oak Primary

All Saints Primary

01475 715640

Glenbrae Hub

Glenbrae Children's Centre
Kilmacolm Road

Greenock

PA15 3LD

Glenbrae Children's Centre

Hillend Children's Centre

Blairmore Nursery

King's Oak Nursery Class

01475 714987

Newark Hub

Newark Primary

Bridgend Avenue

Port Glasgow

PA14 5SU


Port Glasgow High
St Stephen's High

St Francis' Primary

St Michael's Primary

St John's Primary

Newark Primary

Kilmacolm Primary

Gibshill Children's Centre

Rainbow Family Centre

01475 715600
Schools
All Inverlcyde schools are now closed except those providing childcare for key workers.
Health and social care services
In line with the latest government announcements regarding social distancing, key services and tackling this virus all HSCP offices are closed to the general public until further notice. Staff are still working to deliver key services across a number of service hubs. Access to all buildings will be by appointment basis only. Contact details for all care hubs and HSCP buildings are below:
Service Hub

Location

Phone No.

Adult Services

Port Glasgow Health Centre

Access 1st

Tel: 01475 714646

Email: access1st@inverclyde.gov.uk

Assessment and Care Management (ACM)

Tel: 01475 715010

Email: acm@inverclyde.gov.uk

Children /

Criminal Justice

Hector McNeil House, Greenock

01475 715365

Mental Health

Crown House, Greenock

01475 558000

Alcohol & Drug Services

Wellpark Centre, Greenock

01475 715353

Homelessness

Inverclyde Centre, Greenock

01475 715880

Emergency Out of Hours

Glasgow Out of Hours

0300 343 1505
Services are operating under three key principles:
Keep people healthy
Managing delivering services by providing a minimum necessary risk based service
Delivery of key services by telephone contact and arrange visits as required
Care and support at home
The protocol below was agreed at the corporate management team (CMT) to manage the home care service as a result of staffing pressures from coronavirus (Covid-19)
Inverclyde HSCP and commissioned providers for care and support at home will reduce service to essential tasks only on a phased basis within the following protocol.
Any identified risk or service user/carer concern should be directed to the 'access 1st team' on 01475 714646.
Each care at home provider has responsibility to identify essential tasks for individual service users and inform service user/carer. Essential tasks include moving and handling, personal care and medication support. All providers should inform the HSCP of any change in care package via the homecare monitor inbox as per normal procedure.
All essential visits should be kept to the minimum requirement, times and length of visit may vary from the norm.
Provider should continue to log in and out as normal procedure to confirm service user has received a visit. Temporary payment rules will be confirmed separately.
Alternative arrangements should be identified for meal provision. In the first instance service users should be asked if alternative arrangements can be made. If an able person resides in the same home they will be asked to provide meals.
Where there is no available alternative the home support manger for the area should be informed. HSCP and CVS Inverclyde will co-ordinate the provision of meals.
General guidance as follows:
No domestic tasks to be carried out unless essential, e.g. personal care laundry. Staff will wipe down surfaces, door handles etc during visits.
If appropriate, support with showering to be reduced to twice weekly for continent service users.
Support will be identified to assist with shopping for service users if no other means of support available.
Any requirement for home care service users who require shopping/supplies should be sent to Colin Paterson at HSCP home care, colin.paterson@inverclyde.gov.uk
Care providers
Health protection scotland and the NHS have published updated guidance for social or community care and residential settings, it contains information on social distancing, visitors, shielding and admissions/transfers. This can be downloaded via the links on this page.
Council tax
If your income or earnings are impacted by the current COVID 19 pandemic and you expect to struggle to meet your next council tax payment, check to see if you qualify for help by using the online benefits calculator: https://www.inverclyde.gov.uk/health-and-social-care/information-advice/advice-services/what-benefits-am-i-entitled-to
If you pay council tax over 10 months you may be able to spread the cost over 12 months if you move to direct debit. You can arrange this at www.inverclyde.gov.uk/counciltaxonline or by calling 01475 712961
Inverclyde HSCP Advice Service is ready to provide advice and assistance in relation to welfare benefits including Council Tax Reduction. The service can be contacted using an online chat service: https://www.inverclyde.gov.uk/advice-and-benefits by email: triage.advice@inverclyde.gov.uk or you can leave a message on their telephone answer service by calling 01475 715299 and an advisor will call you back.
You can find out about Council Tax Reduction at https://www.inverclyde.gov.uk/advice-and-benefits/housing-benefit-and-council-tax-reduction/council-tax-reduction
Council customer service centre
Inverclyde Council's walk in service at the Customer Service Centre will be suspended from Monday 23 March 2020 and will become an appointments based service.
A telephone service will still be provided but we would ask customers to be patient while waiting for your call to be answered.
The services affected and alternative methods of contact are listed below:
Cash desk payments
Alternative ways you can pay:
'Pay it Online' section of our website: https://www.inverclyde.gov.uk/pay-it-online
The Automated Telephone Payment Line 0845 309 6062
At a Post Office or PayPoint (please check that they are open and still accepting payments)
Call us on 01475 712590 during normal business hours.
Send a cheque to Inverclyde Council, P O Box 9467, Greenock, PA15 1JD (please put your reference or invoice number on the reverse).
Revenues and benefits interviews (including the submission and collection of forms)
Alternative methods of contact:
Revenues
Contact us on 01475 712961 during office hours or alternatively email your enquiry to council.tax@inverclyde.gov.uk
Completed forms and supporting evidence can be sent to council.tax@inverclyde.gov.uk
Housing Benefit and Council Tax Reduction
Contact us on 0800 013 1375 during office hours or alternatively email your enquiry to benefits.enquiries@inverclyde.gov.uk
Completed forms and supporting evidence can be sent to benefits.enquiries@inverclyde.gov.uk
Education Interviews (including the collection and submission of forms).
Please email your enquiry to admin.educationhq@inverclyde.gov.uk
Completed forms and supporting evidence can be sent to admin.educationhq@inverclyde.gov.uk
The following services are unaffected
Collection of crisis grants (collection is by appointment only please do not attend before your appointment time).
Business visitors by appointment only (Cold calling is prohibited).
All telephony enquiries (while resources permit).
Registration of births, deaths and marriages-
To support you and ensure you can comply with the stay at home rules in place, we have made these changes to our registration service:
Death registrations are being conducted by telephone appointment only. Contact us on 01474 714250 or email registrars@inverclyde.gov.uk
Birth registrations are suspended until further notice. Work is being carried out by the UK government to ensure that parents are not disadvantaged by the postponement of these
Marriage or civil ceremonies are suspended until further notice.
Cremation and burials
Crematorium office – The Greenock crematorium office will be closed to visitors, contact can be made by the general public by telephone entry will be restricted to funeral directors. Viewing of the book of remembrance will no longer be available but can be done online through Inverclyde Council web page.
Our staff will prioritise burial and cremation administration but will reduce priority for other areas of service including memorial permits and family tree searches.
Family funeral arrangements will change. Only close family members should attend services In line with churches and chapels. Funeral directors will carry coffins to graveside/crematorium to reduce the involvement in front line staff to control the spread of the virus.
Parking enforcement
From Monday 23 March parking enforcement and charges in council car parks will be suspended in Inverclyde for four weeks initially. Enforcement of parking offences on yellow lines will still continue to be enforced.
Roads and transportation
Only emergency repairs will be prioritised across Inverlcyde's roads network.
Waste services change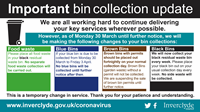 From Monday 30 March until further notice we will be collecting waste as follows.
A weekly collection of your black residual waste bin. Please place your black bin out on your usual collection day every week. All food waste should be placed in the black residual waste bin. No separate food waste collection will be carried out.
If your blue bin is due to be collected from 30 March to Friday 3 April it will be emptied with a non-recycling collection. No blue bins will be collected until further notice after then.
Brown bins (garden waste) with permits should be placed out on your normal collection day but will be collected by the same vehicle as your black bin. Brown Bins (garden waste) without a permit will not be collected.
All waste to be collected should be placed in your black bin NO side or excess waste will be collected. No separate food waste of blue bin collection will be carried out.
The sale of brown bin (garden waste) permits is suspended until further notice.
This is a temporary arrangement until further notice.
Prescription service launched for Inverclyde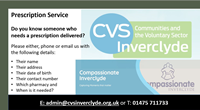 CVS Inverclyde and Compassionate Inverclyde are joining forces and working closely with the community to signpost into a new Inverclyde prescription service, for local residents needing support during the COVID-19 pandemic.
The Inverclyde Community Link Worker (CLW) team, managed by CVS Inverclyde, are working alongside the #Covid19 local community groups, to connect directly to individuals in their neighbourhoods in a bid to ensure everyone in need receives their prescription on time.
If you know someone who needs a prescription delivered, simply email or call CVS Inverclyde on E: admin@cvsinverclyde.org.uk or T: 01475 711733 with the following details for the person
Name
Address
Date of birth
Contact number
Which pharmacy they use and
When the prescription is needed
The CLW team are actively supporting the community during the COVID-19 outbreak in many ways. While each of the 14 GP practices in Inverclyde has a CLW, the team are currently based in the community and using technology to continue to help people through phone calls, video calls and text messaging. Thanks to this approach, the team are still able to take referrals from anyone who feels that they would benefit from their support.
Public toilet closures
Council public toilets are now closed due to limited staff availability to open, clean and close the toilets as a result of the impact of coronavirus (covid-19).
Contacting your councillor
With national guidance in place for people to stay at home, anyone wishing to contact their councillor should use the phone and email contacts listed on the council website in the 'councillors' section.
Licensing services update
The update below highlights restrictions to the council's licensing services:
All Civic/Taxi Driver/Taxi Operators Licences/Liquor Licences - This guidance is for current licence holders and anyone planning to apply for a new licence. It explains the changes we are making to our licensing service to help minimise the disruption caused to licence holders by COVID-19.
General guidance - Please note that the public reception at Municipal Buildings, Greenock will be closed until further notice.
Face to face appointments - We are currently not offering face to face appointments. Paperwork can be posted by Royal Mail, submitted electronically or hand delivered by posting in the letterbox which is located in the carriageway at the rear of the Municipal Buildings, Greenock and which will be clearly signposted.
New Applications - All new applications are suspended. Please note if you submit a new application (civic/taxi driver/taxi operator/liquor licences etc.) it will not be processed until further notice.
Renewal Applications - We will endeavour to continue processing any renewal applications submitted prior to the expiry date of existing licences. However applicants should note that it is likely that renewal applications will take longer than the usual timescales to process in light of the impact of Coronavirus (COVID-19). An application for renewal in relation to a licence should be lodged prior to the date of expiry in order that an existing licence continues.
DVSA has announced that MOT tests across the UK have been suspended for six months due to the coronavirus (Covid-19) pandemic .Legislation due to be introduced on 30 March 2020 will come into immediate effect .
The council will suspend licenced vehicle testing from close of business on Monday 30 March 2020. Between now and Monday 30 March 2020 only vehicles with an MOT expiry date prior to 1 April 2020 will be tested .
All operators must note that the standard of roadworthiness of a licenced vehicle has not been relaxed . All operators and drivers require to comply fully with the vehicle standards stated in the taxi inspection manual.
Submitting Applications for Renewal - Renewal applications can be submitted to the licensing section by post or email.
Civic, Taxis, Miscellaneous and Liquor Licensing - Applications should be submitted by post or email.
Please ensure that applications for alcohol licences and civic licences are completed in full, signed and copies (not originals) of the relevant documentation are submitted.
By Post: The Licensing Section, Inverclyde Council, Municipal Buildings, Clyde Square, Greenock PA15 1LX.
By Email: Scan the signed form and documents as pdf files and send an email to licensing.section@inverclyde.gov.uk.
Payment: Payment can be made by telephoning the Contact Centre on 01475 717171 with your card details (please quote your name and licence number), BACS payments (details of which are undernoted) or by posting a cheque.
Licensing Board and General Purposes Board - Please note that all Licensing Board meetings and meetings of the General Purposes Board will be postponed until further notice. Licensing staff will be in touch with applicants advising of revised dates when known.
Contact Details - Licensing staff can be contacted by telephoning 01475 712139 or by email at licensing.section@inverclyde.gov.uk.
We ask that callers restrict their calls, in this emergency period, to telephoning between 10am and noon and between 2 - 3pm.
All licence holders are encouraged to keep up-to-date with government guidelines and advice in respect of the Coronavirus (COVID-19) outbreak.
Finally please note as the current situation develops it may be necessary for working practices to change.
Inverclyde Council Licensing Section will aim to maintain continuity of business, insofar as is possible, during these challenging times.
Details for BACS payments:
Account No. 00438747
Sort Code: 80-91-25
Inverclyde advice services
Below is an update from Inverclyde HSCP advice services highlighting temporary reforms to benefits to support claimants during the coronavirus (Covid-19) pandemic.
New legislation in force as from 13 March 2020 has been issued by the UK Government that has introduced temporary measures to reform elements of the benefits system during the coronavirus outbreak.
FOR PEOPLE ALREADY CLAIMING WELFARE BENEFITS
Special arrangements are in place for claimants in receipt of benefits who cannot attend reassessments or Jobcentre appointments because they are required to stay at home or are infected by coronavirus.
The arrangements are:
Disabled and sick claimants who cannot attend an assessment or reassessment for Personal Independence Payment (PIP), Employment and Support Allowance (ESA) or Universal Credit will continue to receive their payments while their assessment is rearranged. As from 16 March 2020 the UK Government announced that with effect from 17 March 2020 all face-to-face assessments for sickness and disability benefits are to be suspended for three months;
People who need to claim ESA or Universal Credit because of coronavirus will not be required to produce a fit note;
When claimants 'advise jobcentre in good time' that they are staying at home or that they have been diagnosed with coronavirus, they will not be sanctioned. Jobcentre will review their conditionality requirements in their claimant commitment to ensure they are reasonable;
Claimants who are staying at home as a result of coronavirus will have their mandatory work search and work availability requirements removed to account for a period of sickness.
FOR PEOPLE WHO NEED TO MAKE A NEW CLAIM FOR FINANCIAL SUPPORT
People who are required to stay at home or are infected by coronavirus may need financial support and quickly. The legislation has been changed so that:
Those affected by coronavirus will be able to apply for Universal Credit and can receive up to a month's advance up front without physically attending the Jobcentre;
The 7 waiting days for ESA for new claimants will not apply if they are suffering from coronavirus or are required to stay at home – so ESA will be payable from day one.
EMPLOYEES AND SELF-EMPLOYED PEOPLE
To make sure people in work can take the necessary time off to stay at home if they are suffering from coronavirus or to prevent its spread, changes have been made to Statutory Sick Pay and how Universal Credit supports self-employed claimants. This includes:
People who cannot work due to coronavirus and are eligible for Statutory Sick Pay will get it from day one, rather than from the fourth day of their illness, this measure applies retrospectively from 13 March 2020;
Statutory Sick Pay will be payable who are staying at home on UK Government advice, not just those who are infected. From 13 March 2020 employers are urged to use their discretion as to what evidence, if any, they ask for;
If employees need to provide evidence to their employer that they need to stay at home due to coronavirus, they will be able to get it from NHS 111 Online instead of having to get a fit note from their doctor. This is currently under development and should be made available in due course;
Self-employed claimants on Universal Credit who are required to stay at home or are ill as a result of coronavirus will not have a Minimum Income Floor (an assumed level of income) applied for a period of time while affected.
The above are the legislative changes the UK Government has introduced thus far. Further updates will be found at:
https://www.gov.uk/browse/benefits
https://www.gov.uk/government/topical-events/coronavirus-covid-19-uk-government-response
Inverclyde HSCP Advice Service will look to issue further briefings as further legislative change is announced.
Inverclyde HSCP Advice Service can provide advice and assistance in relation to welfare benefit and money advice. We can be contacted on our Inverclyde Advice First, Telephone Triage Advice Line of 01475 715299 or email: triage.advice@inverclyde.gov.uk
Emergency Support Workers
The council is opening a special recruitment drive to help deliver vital work across a number of our services during the coronavirus (covid-19) crisis.
If you are interested and can help us focus our efforts to protect vulnerable people, deliver care and support core services, we want to hear from you. Roles include home support workers.
Please note:
Shortlisted applicants will be asked to take part in a telephone interview.
People with underlying health conditions, covered by the government and NHS guidance on social distancing, and should not apply.
These posts will be sessional, on an adhoc basis, and last for the duration of the covid-19 crisis.
Posts are open to part time hours.
Further information and application form can be found on the council recruitment portal MyJobScotland, here: https://bit.ly/2QPf05f
https://myjobscotland.gov.uk/councils/inverclyde-council/jobs/emergency-support-worker-sessional-187170
Events
Gourock Highland Games - The Gourock Highland Games is planned for Sunday 10 May and regularly has attendance of over 10,000. The current guidance of limiting events of over 500 people will mean that this not take place. The council's corporate communications service is working with its partners at the Scottish Highland Games Association and the Royal Scottish Pipe Band Association (RSPBA) to examine options for hosting the event later in the year and will make an announcement through social media after Wednesday when those discussions are complete.
Arts, culture & leisure
Watt Institution and libraries - Due to staff shortages the Watt Institution and libraries closed to the public from today (Wednesday 18 March) at 1pm until further notice.
Online library services will continue to be available and these will be promoted to customers, particularly through social media.
Please be reassured, that all fines accrued from Tuesday 17 March 2020 have been removed and no further fines will accrue on overdue items.
In addition, all items currently on loan will automatically have the return date extended until our libraries re-open.
For e-books and e-audio books visit: https://www.inverclyde.gov.uk/community-life-and-leisure/inverclyde-libraries
Inverclyde Leisure - Inverclyde Leisure is closing all of its facilities from close of business today (Wednesday 18 March).
Whinhill Golf Course – The golf course will be closed with immediate effect.
Third sector update
CVS Inverclyde's priority is to help ensure the health and wellbeing of staff, their families and the wider community. We are continuing to coordinate communications with Inverclyde HSCP, Inverclyde Council, Third Sector Network and the Scottish Government. We are providing updates through emails to our network, on our website news pages and through our social media channels, as well as sharing information with local media as appropriate.
Volunteer Inverclyde – www.volunteerinverclyde.org.uk, has been updated with 'COVID-19' as an event to capture those from the community who are willing and able to volunteer.
Organisations that have already registered to access this website can then contact potential volunteers directly themselves, with other trusted organisations encouraged to register in order to be granted access to search for volunteers.
NHS volunteering @ IRH – Discussion ongoing with Strategic Lead for Volunteering NHS GGC, and service is being developed. Local recruitment campaign to be launched 26/03/20.
Inverclyde Life – Website www.inverclydelife.com has been repurposed in response to COVID-19 and CVS team are sharing this with the community as an asset register. CVS team are actively contacting groups to update their 'About' section to include what they can do to help at this time - such as preparing food parcels, dog walking, daily phone calls to those self-isolating and much more – individuals can find a service using the COVID-19 tag.
Community link workers - Inverclyde's community link worker (CLW) team are actively supporting the community during the COVID-19 outbreak. Each of the 14 GP practices in Inverclyde has a CLW. The team is currently based in the community and are using technology to continue to help people through phone calls, video calls and text messaging. The team are also responding to requests for support with prescription collection whilst this service is mobilised.

Shielding Service – Discussions with HSCP ongoing and second draft SOP in progress. Initially led by CLW coordinating in each locality, supported by a network of PVG'd volunteers.
Inverclyde Community Fund – In partnership with CVS the fund will shortly open offering small grants.
Funding – Various funding streams have been announced by Scottish Government. CVS is working closely with the Scottish Funders Forum to understand how local organisations can apply to the funds once they are open. Third Sector Resilience Fund has opened managed by Firstpost, Corra Foundation and Social Investment Scotland. CVSI will offer support to groups applying.
Inverclyde Community Action Response Group:
Members:
Stephen Henry, Mind Mosaic and Belville; Laura Reilly, Belville CG; Louise Hunter, Creative Inverclyde/Summerhouse Media; Charlene Elliott, CVS Inverclyde; Alison Bunce, Compassionate Inverclyde; Gwyneth MacDonald, Mind Mosaic; Karen Haldane, Your Voice; and Lynn Foreman (grassroots/community volunteer network).
Initiatives:
Isolation Boxes – Partnership between Belville and Compassionate Inverclyde. All donations of surplus food (and other items e.g., self-care) to be diverted here, including excess free school meals. Over 100 self-isolation boxes delivered to date and demand continues to grow.
Opt-in Telephone Support Service – Compassionate Inverclyde/Your Voice – Daily telephone call to self-isolators to check-in and offer support. Demand for this is growing. Discussions around whether any local Call Centre's are able to assist.
Key Worker Support - Morton FC/Morton in the Community keen to support key workers including care homes. Louise Hunter in discussions with Fun World and others re community food initiative.
Access to Mindfulness Podcasts and telephone therapy support – in progress/systems testing by Mind Mosaic.
Community Volunteer Network – COVID-19 Inverclyde Private Facebook Groups. Updates on activity at local community level across a network of 'team leader' volunteers operating on a neighbourly basis. CVSI providing support, advice and best practice resources.
Other organisations -
Beacon Arts Centre - The following statement will be issued by the Beacon Arts Centre on 17 March 2020:
"In line with the UK and Scottish Government's advice to avoid social contact, including in theatres, the Beacon Arts Centre is suspending all activities with immediate effect, until further notice, to support measures to combat the spread of COVID-19.
As always, our priority remains the health and wellbeing of our audiences, participants and staff.
We hope to reschedule affected performances and will be in touch with ticket holders as quickly as possible.
As an arts charity operating in the local community, we are reliant on the support of customers, funders and stakeholders. To ensure that we can re-open with the fantastic programme of performances and activities planned for later in the year, please consider supporting us in one of the following ways:
Exchange your ticket for a rescheduled performance
Turn the value of your ticket into a donation
Transfer the value of your ticket into a credit to be used for future performances
We thank our customers for their support and patience during this uncertain time and are grateful to our funders for their continued support. We are also grateful to the many producers, artists and organisations we work with for their understanding.
We can be contacted at info@beaconartscentre.co.uk. Please bear with us while we respond to a large number of enquiries.
It is with great sadness that we temporarily close our doors and we look forward to welcoming you back when re-open."
West College Scotland – The college will be suspending all face to face teaching with effect from 4pm on Friday 20 March 2020. They are asking that pupils come into college this week, timetabled, to discuss and implement alternative arrangements.
Home Energy Advice Team (HEAT) - HEAT face-to-face in-home support has been suspended with the service continuing remotely. If you have a client/tenant or customer who requires support, please contact HEAT by email at HEAT@thewisegroup.co.uk or by phoning 0800 092 9002.
Business -
A variety of financial support is available for businesses, including the Scottish Government Coronavirus Business Support Fund as mentioned below, as well as help for those who are self-employed and for third sector organisations due to the Covid-19 (coronavirus) outbreak.
A comprehensive list of grants and other schemes is contained in a document at the left-hand side (web browser) or bottom of this page (mobile devices) called 'BUSINESS INFORMATION - Business Support Summary (covid-19)'.
Business grant scheme
Applications are now being accepted for the Scottish Government Coronavirus Business Support Fund.
Forms are now available online at in the 'Documents' section at the left-hand side (web browser) or bottom of this page (mobile devices) – and also includes full eligibility criteria.
Completed applications must be sent electronically to rates@inverclyde.gov.uk
Business Gateway Inverclyde - Business Gateway is being responsive and reactive to the needs and challenges Scottish businesses face due to the Covid-19 (coronavirus). Plans are being put in place to deliver a virtual advisory and workshop service where possible.
Advisers can offer free support with a wide range of business matters including continuity planning, managing cashflow, HR and dealing with suppliers.
The local number for Inverclyde is 01475 779327.
Football and sports –
The SFA and SPFL has announced the suspension of all domestic professional and grassroots football in Scotland until further notice. This affects all youth football taking place in Inverclyde and parents/young people are encouraged to speak with their club coaches to find out how this affects any planned games or training.
While this affects official games carried out by clubs, individuals who arrange their own football or other sports activity can still book pitches through Inverclyde Leisure.
It is expected that other national sports organisations could follow this and the communities services will continue to liaise with them.

Page last updated: 11 May 2020