Parks and open spaces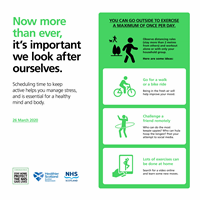 During this time of restrictions, it is important that we all stay active, for our physical health and mental wellbeing.
Recreation outside is an important part of this, but it is essential that each of us practise good social distancing while outside. You should not travel to access the outdoors, and your time spent outside exercising should be done close to your home rather than travelling elsewhere.
Playground equipment and play areas are currently closed. This decision was taken to reduce the potential for transference of the virus from the surfaces. As the playgrounds are closed, the equipment is no longer subject to safety inspections.
If you live close to a play park, the open space is still available to you, but please do not allow young ones to play on the equipment. Please also observe social distancing as guided by government.
We want you to discover Inverclyde's landscape, leisure opportunities and natural beauty but not right now.
During this unprecedented time, these facilities should be considered out of bounds to anyone who does not live within short walking distance. Please do not travel to these locations. Once the current restrictions are lifted we will welcome you back and we want you to discover all of the leisure opportunities we have.
At this moment, we ask that you comply with the national guidance and stay at home.
Your help and understanding is essential at this challenging time. It is only by us all working together, following Government advice, that we can defeat this, save lives and protect the NHS.
To support the stay at home guidance, car parks at parks and open spaces operated will be closed in several locations across Inverclyde.
The car parks to be closed to vehicles are:
Lunderston Bay
Parklea
Battery Park
Inverkip
Greenock Cut
Overton Road car park
Tower Hill
While many parks and open spaces remain open to walkers, the aim of this action is to limit the number of people travelling to parks and open spaces by car and breaching the stay at home guidance.
Page last updated: 7 April 2020