Parks and open spaces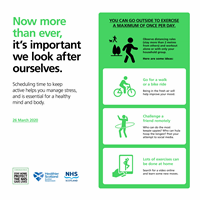 During this time of restrictions, it is important that we all stay active for our physical health and mental wellbeing.
Recreation outside is an important part of this, but it is essential that each of us practise good social distancing while outside.
All our play parks have now been reopened.
This includes the Walled Garden in Gourock, where there are toilets and hand washing facilities in the event someone touches the animals. Due to movement of the animals at the beginning and end the day the parks hours will be resitricted to 9am - 4.30pm, 7 days a week, until further notice.
At this moment, we ask that you comply with the national guidance and stay safe.
Your help and understanding is essential at this challenging time. It is only by us all working together, following government advice, that we can defeat this, save lives and protect the NHS.