Access to free sanitary products
Got your period? We've got you!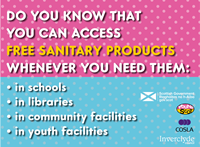 It is now easier than ever for our young students to access free sanitary products in Inverclyde. Thanks to funding from the Scottish Government, free sanitary products are now available in all local schools (for pupils) and many other venues in the area. Anyone who menstruates is welcome to use this free service.
The following items are available to collect within toilet facilities:
To find out where you can access the products elsewhere in the community, phone 01475 717171 or visit www.inverclyde.gov.uk/myinverclyde, insert your postcode and click on the link Access to free sanitary products.
Page last updated: 16 October 2019