Access to free sanitary products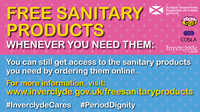 Got your period? We've got you!
Thanks to funding from the Scottish Government, free sanitary products will continue to be available throughout Inverclyde.
Although our usual collection hubs are temporarily closed during COVID-19, we are offering a new ordering service so you can still get access to the products you need.
Anyone who menstruates is welcome to use this free service, but you must live in Inverclyde and provide an Inverclyde post code for delivery.
As well as the free online delivery service, Inverclyde Foodbank will also have their usual supplies to add to parcels.
A range of products are available to choose from.
To avoid multiple orders being sent to the same household and to ensure people get what they need, families are being asked to consult with each other before ordering.
Products may take up to three weeks to arrive so if anyone has an urgent requirement for a supply they should contact Inverclyde Council's Community Learning & Development section by emailing cld.admin@inverclyde.gov.uk or phoning 01475 715450
Complete your online order here or on the order form to the side: https://www.surveymonkey.co.uk/r/C3739JV