Saturday Music Centre
Music is the strongest form of magic.
Marilyn Manson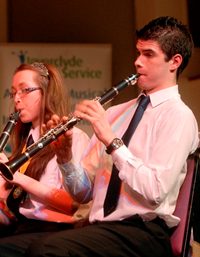 The Inverclyde Music Centre runs every Saturday in Clydeview Academy 9.00am-1.00pm during the school term up until the end of May.
Sometimes taking time off classes for music lessons can be problematic. Learning and practicing music on your own can require exceptional levels of concentration and self-motivation. The Saturday Music Centre offers children and young people the opportunity to learn outside school hours, socialising and practicing with other young musicians from across Inverclyde. Students have the opportunity to learn from a specialist teacher in their chosen instrument.
As well as lessons many of our students take part in the Inverclyde Junior Strings, Inverclyde Junior Wind Orchestra and which run as part of the Music Centre.
Students can be referred to the Music Centre by their Instrumental Music Teacher.
On some years, the Saturday Music Centre only meet for lessons 29 times, rather than 30. However, lessons at the Saturday Music Centre are longer and this more than compensates for the lost week.
Page last updated: 16 July 2019