New Greenock Health and Care Centre
Learn about the proposals for the new Greenock Health and Care Centre.
Greenock is the largest town within Inverclyde, and like much of the West of Scotland, is characterised by persistent socio-economic deprivation and poor health outcomes. The development of the Inverclyde Health and Social Care Partnership (HSCP) builds on established joint working that was fostered under the previous CHCP arrangements, but the new HSCP also affords an opportunity for us to take stock of progress to date and our priorities for the future. Over the past four years work has been ongoing to take stock of health and social care services with a view to improving outcomes and mitigating the health inequalities that stubbornly exist, through service reconfiguration.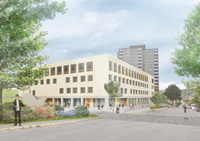 An Outline Business Case has been developed, and this document details our thinking in terms of the most important issues that shape our strategic priorities. Health inequalities are central, and some of the most notable negative consequences of these are highlighted. We know that many of the people who need health or social care support are often disinclined to approach or engage with our services, and only accept support when their condition(s) are quite advanced. This means that opportunities for supported self-management or health improvement at an earlier stage of disease progression can often be missed.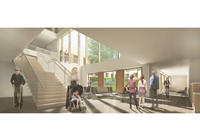 The current facilities at Greenock Health and Care Centre are of poor quality and are seen as unwelcoming. Staff tell us that the current building is not able to accommodate the new ways of working afforded by multidisciplinary team approaches, in terms of layout, spatial relationships and general fabric. We also know that patients attending Greenock Health and Care Centre will often be expected to attend other locations to access services that are part of their overall care package or approach. If patients choose not to attend another location, then their treatment plan is at risk of being compromised. If we are to make a real difference to improving lives in Greenock and Inverclyde, we need to radically re-think our approach to how we organise and deliver health and social care services in a way that maximises our impact, nurtures and supports self-management, makes the patient journey as straightforward as possible, and recognises carers and third sector contributors as equal partners. We also need to ensure that we refine our relationship with Acute Sector services in ways that optimise effectiveness and efficiency, and support care and treatment being delivered from primary care settings whenever appropriate. This is in the best interests of patients and staff alike.
We have considered the negative points of the current building alongside the positive joint working that has steadily grown over the years within the Greenock Health and Care Centre. There is much to celebrate and any future change should aim to preserve the positives as well as address the negatives. Recognising this, we have considered various options including refurbishing, upgrading or expanding the existing facilities.
Page last updated: 14 December 2017