Adoption
Together We Make A Family - Adopt for Inverclyde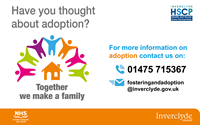 What is adoption?
Adoption is a way of providing a new life long family for children who cannot be brought up by their own family. It is a legal process in which all parental rights and responsibilities are transferred to the child's adoptive family. An adopted child loses all legal ties with their birth family and becomes a full member of the adopter's family.
Who needs an adoptive family?
Children of all ages are waiting to find an adoptive family. This includes brothers and sisters who need to be placed together. The children will already be living with foster carers and all attempts to return them to their birth family will be at an end.
Many of the children will have experienced some level of neglect and abuse often through parental misuse of alcohol and drugs. As a result, some children's health, development or self confidence may have been affected.
Who can adopt?
Adopters come from all types of backgrounds and have a variety of life experiences. You need to be over 21 years old and have NO convictions against children. You can be single, married, co habiting in either a different or same sex relationship and already have children or not. You do not need to own your own home or be working. You need to be sufficiently fit and able to look after a child until parenthood. Adopters need to have time, compassion, patience and a sense of humour with lots of love to give to a child throughout their life.
We offer a range of supports including:
The support of an allocated worker
Training
Group support from other adopters
Page last updated: 6 February 2018