Buying or Building Your Own Home
Buying a house
Owner occupation offers a wide choice of accommodation however when considering buying a property you should investigate the short and long term costs. In doing so you should take into account any potential changes in circumstances that may affect your finances such as redundancy, fluctuation in interest rates, relationship breakdown or reparis.
Advice on the property buying process, including mortgages, is available on the Citizens Advice Bureau website
There are a number of affordable home ownership options available and more information on these can be found in our Housing Options Guide.
Low Cost Home Ownership schemes
Low Cost Initiative for First Time Buyers (LIFT)
Help to Buy (Scotland) Affordable New Build Scheme
Help to Buy
Rent to Buy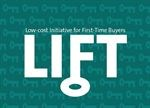 LIFT Open Market Shared Equity Scheme
This is an important housing option to help people on a low to moderate incomes afford to buy a home without having to fund it all themselves. The scheme is aimed at first time buers, social rented tenants, disabled and older people with housing need, armed forces personnel and recent veterans.
The minimum equity stake that buyers must take in a property is 60 per cent and the maximum equity stake is 90 per cent. Lenders normally require buyers to provide a modest deposit.
Applications to the scheme are assessed by Link Group Ltd who administer the scheme on behalf of the Scottish Government. An information leaflet can be found in the related links section of this page.
Building a house
Potential sites will be advertised in local newspapers, solicitors/property centres and estate agents websites and offices. Local knowledge can also be very useful in finding a site for sale.
Sites can vary considerably – some may have outline planning consent, some may already be serviced with water, electricity or gas while other sites may have no planning consent or services. It is generally not a good idea to purchase until at least outline planning consent for housing has been obtained.
As with all major property transactions, you should get legal advice from a solicitor at an early stage.
You should inspect planning permission for your potential site as there may be restrictions to the type of size of house that you can build. There may be restrictions which affect the cost of the build – for example, a traditional style of building may be required.
For advice on planning regulation and procedures please contact your area planning office or visit the planning pages on this website.