Local Housing Strategy
Local Housing Strategy 2011-2016
Every council must produce a 5 year Local Housing Strategy (LHS) for their local area. The Local Housing Strategy sets out the vision for housing and housing related services over the next five years. It builds on the success of our previous strategies and supports the Scottish Government's vision within Homes Fit for the 21st Century of a housing system which provides affordable homes for all. It also seeks improvement in housing quality and recognises the role that the housing system has to play in enhancing economic growth and social mobility, as well as strengthening our communities.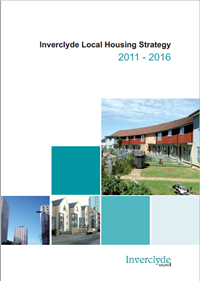 The strategy is designed to overcome many of the challenges that will face the social tenants, private tenants, home owners and homeless people of Inverclyde in the coming years. It will do this by trying to achieve five strategic outcomes for the households of the area. When these outcomes are achieved it will mean that in 2016 we will be able to say:
Inverclyde residents have access to a range of suitable housing options
Inverclyde residents are able to make best use of their housing
Inverclyde residents can enjoy their neighbourhoods
Inverclyde residents receive appropriate support when they experience changes to their housing needs
Inverclyde residents take responsibility for their housing and communities
When preparing the LHS we consulted widely and received considerable feedback from a wide range of people and organisations. We also carried out assessments of the impact the LHS may have on communities (Equalities Impact Assessment) and the environment (Strategic Environmental Assessment).
Page last updated: 21 October 2016