Regeneration of Clune Park
The Clune Park area has been identified by Inverclyde Council as its highest priority for investment to tackle the physical and social issues that have led to the current degraded condition of the housing stock.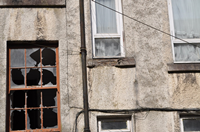 The Clune Park Regeneration area consists of 430 flats in 45 four storey tenement buildings. The majority of the flats are small, with 69 bedsits, 310 one bedrooms flats and 51 two-bedroom flats. As a result the area has one of the highest densities of housing in Inverclyde.
There are no residents owners within the estate and less than 50 of the flats are tenanted, giving an occupancy rate of 10% across the estate. The remaining properties are either unoccupied or not fit for habitation. As a result Clune Park has the highest rate of below tolerable standard (BTS) housing in Inverclyde and the highest void rates in Inverclyde. Furthermore, the area has a considerable tenure imbalance approaching 100% for landlords and non-resident owners.
A regeneration plan for the Clune Park area was approved by Inverclyde Council in May 2011. The ultimate aim of the plan was demolition of all 45 buildings to allow progress to be made in regenerating the area.
Page last updated: 16 July 2018