Consultation on Inverclyde's Long Term Planning Future
Friday 21 April 2017
A public consultation is underway on where and how future development will take place in Inverclyde.
The Main Issues Report is the first stage in the preparation of a new Local Development Plan which will look forward to 2024 and beyond.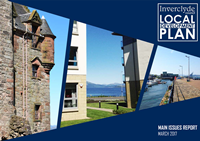 The Local Development Plan sets out the Council's strategy, policies and proposals for the use of its land and buildings and is used to determine planning applications and advise on development proposals.
The Main Issues Report consultation offers an opportunity for the community and others with an interest in the future development of Inverclyde to have a say on the content of the new plan.
The report sets out options for how particular issues should be addressed and invites views on these opinions and alternatives.
They include how much new land is required for new housing development and possible locations; the future of industrial areas such as Port Glasgow Industrial Estate and Spango Valley and whether the new development plan should have a more flexible approach to encourage new uses in Greenock town centre.
The Main Issues Report and associated documents are available online at www.inverclyde.gov.uk/newldp and are also available in Inverclyde Council libraries.
The Main Issues Report consultation runs until 31 May 2017. Responses can be submitted by:
Email to ldp@inverclyde.gov.uk with the subject heading Main Issues Report
Completing the e-form available by following the link on this page.
Writing to Planning Policy, Regeneration & Planning, Municipal Buildings, Clyde Square, Greenock PA15 1LY
To discuss the Main Issues Report, please contact a member of the Council's Planning Policy team:
Alan Williamson 01475 712491
Ash Hamilton 01475 712463
Fiona Milne 01475 712411
Margaret Picket 01475 712493
Page last updated: 21 April 2017