Work Starts on New Early Years Centre
Tuesday 8 August 2017
Work is underway on the latest project in Inverclyde Council's £270 million schools estate programme.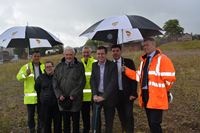 A new 100 pupil nursery is being built on part of the former Greenock Academy site to replace the current 'west end' facility at Kelly Street Nursery and St Mary's Primary.
Education & Communities Convener Councillor Jim Clocherty said: "I am delighted to see work starting on the new centre and I am sure parents and carers are excited at the prospect of such a modern and well-thought out building at the heart of their community. When completed this will be a fantastic facility for children to begin their learning journey in those all-important early years before school."
All three nursery playrooms – two accommodating 40 children and one accommodating 20 – will have views out over the River Clyde.
The new centre is being delivered in partnership with hub West Scotland. Iain Marley CEO said: "We are thrilled to deliver this important facility through Partnership with Inverclyde Council. The Centre has been carefully designed to provide a very high quality environment and help realise Inverclyde and the Scottish Government's commitment to expand the provision of nursery and childcare services."
Glasgow-based CCG (Scotland) Ltd – have been appointed by hub West Scotland and are currently building the new £9.2 million St Ninian's Primary and refurbishing Moorfoot Primary School in Gourock.
Calum Murray, Director said: "The new nursery will be a fantastic facility that will offer children great learning and development opportunities. The nursery has been designed to maximise the experience for children and includes renewable energy technologies to minimise energy demand and maximise the building's efficiency.
"We are proud of this latest project and delighted to continue our work with Inverclyde Council and hub West Scotland on the delivery of their schools estate development and modernisation programme."
Inverclyde Council is currently consulting parents and carers about how they would like the new expanded-hours in nursery and childcare to be delivered.
The Scottish Government is planning to increase the funded provision from 600 hours per year to 1140 hours per year - approximately 30 hours a week - for eligible children.
The extra hours will be available to all children aged from 3 to 5 years and for some children aged 2 to 3 years and will be in place by 2020. The consultation runs until 18 August 2017.
Councillor Clocherty added: "There is still time for people to take part in the consultation before the deadline and I would encourage anyone with an interest to give us an idea of the kind of childcare they would like to see in Inverclyde."
The Design Team consists of Architects Holmes Miller, Civil & Structural Engineers Struer, M&E Engineers Baker Hicks, QS Brown & Wallace and will be built by Main Contractor CCG (Scotland) Ltd.
Photograph: Mark Elison (Holmes Miller) Councillor Elizabeth Robertson, Councillor Martin Brennan, Iain Marley (hWS), Councillor Jim Clocherty, Councillor Graeme Brooks and Calum Murray (CCG),
For further information on the Early Learning and Childcare Consultation amd to take part in the online survey follow the links on this page.
Page last updated: 8 August 2017