New Car Park Completed
Thursday 16 February 2017
Greenock town centre has a new car park thanks to a £200,000 investment by Inverclyde Council.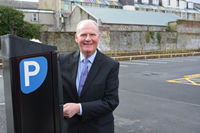 Work on the 40-space facility on Dalrymple Street has been completed following the demolition of the former headquarters of the Council's social work services.
Environment & Regeneration Convener Councillor Michael McCormick said: "I am sure the new parking spaces will be welcomed by shoppers and visitors to the town. This is a great way to make use of the site after it became clear the old Dalrymple House building needed to be knocked down and enhances the provision of parking needed to encourage business and local investment in the town centre."
The new car park includes three dedicated spaces for disabled drivers and cars can be parked all for £1.
Parking in Inverclyde Council car parks in Greenock town centre is free on Saturdays and Sundays. More details on locations are available at www.inverclyde.gov.uk/parking
Page last updated: 16 February 2017