Paramedics Support GP's to Deliver Home Visits
Thursday 13 July 2017
For the first time in Scotland paramedics are working as members of GP practices in a pilot scheme aimed at developing front-line primary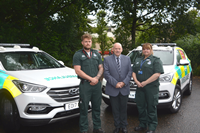 care for patients.
Employed by the Scottish Ambulance Service, they are now carrying out routine home visits for two Inverclyde practices.
Chair of Inverclyde Council's Health & Social Care Committee Councillor Robert Moran said: "Scotland as a whole is experiencing something of a GP recruitment crisis with newly qualified doctors not wanting to enter general practice and many GP's are nearing retirement age.
"It is extremely important that we look at new ways to restructure primary care services to see how the role of GP's can be refocused and modernised. They should become a senior clinical decision maker working with a wide range of health professionals in a team to deliver appropriate care to patients."
Paramedics already make home visits in emergency situations. The Inverclyde pilot makes use of their existing skills alongside further training to support GP's in caring for patients who are housebound or too unwell to visit the surgery.
The paramedics are working with Regent Medical Centre and Gourock Medical Centre for the next 12 weeks after which the scheme is expected to be rolled-out to other practices.
Dr Audrey Archibald is a GP Partner at Gourock. She said: "The pilot has been very well received by our patients. Having a Specialist Paramedic working within the practice, eases the demands placed on us by the ever increasing routine pressures of work, releasing our time to spend on complex patients and those requiring palliative or end of life care. It is also apparent that there is much more scope to expand this role within Primary Care."
Scottish Ambulance Service Chief Executive, Pauline Howie, said: "The Scottish Ambulance Service is committed to seeing and treating more patients in their own homes and communities, where it is clinically appropriate, rather than taking them away from family support and into a hospital environment.
"Our Specialist Paramedics have completed additional training in urgent and emergency care which means they can treat patients at home and refer them for appropriate follow up when necessary.
"This ensures that more ambulance resources are available to respond to emergencies and immediately life threatening calls, helping us to save more lives."
Patients will be asked about their experiences and encouraged to feed back any views to their practice.
Councillor Moran added: "We have worked hard to build the strong relationships with GP's and health and social partnership working which we already have in place. This pilot will allow us to design services that are fit for the future and meet the needs of people while reducing the pressure on GP's allowing them to use their skills to improve patient care."
Photograph: Paramedic John Young (Gourock Medical Centre), Councillor Moran and Paramedic Lauren O'Connor (Regent Medical Centre).
Page last updated: 13 July 2017