Notice of Election – 2017 Local Government Elections
Monday 13 March 2017
Elections to the Inverclyde Council will take place on Thursday 4 May 2017.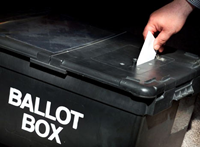 For the first time in a Scottish Local Government Election anyone who is aged 16 years or over on the day of the poll is allowed to vote providing they have registered by 5pm on Monday 17 April 2017.
The last date to apply for a postal vote, or to amend an existing postal vote, is 5pm on Tuesday 18 April 2017.
You can also apply for a proxy vote so that someone else can vote on your behalf. The last date to apply for a proxy vote is 5pm on Tuesday 25 April 2017.
Nominations for those who wish to stand for election to the Inverclyde Council at these elections must be received no later than 4pm on Wednesday 29 March 2017 by the Returning Officer at The Election Office, Municipal Buildings, Greenock, PA15 1LX. Nomination packs will be available from this address from Tuesday 14 March 2017 between 10.00 am and 4.00 pm on weekdays.
Full details can be found at www.inverclyde.gov.uk/election.
The formal Notice of Election is available to download in the Documents section of this page.
Page last updated: 13 March 2017