Sign of the times
Friday 3 August 2018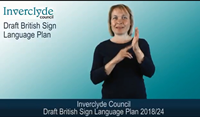 Inverclyde residents who use British Sign Language are being encouraged to give their views on a new council plan.
The council has created a draft plan setting out how it will promote and raise awareness of the language.
The draft plan highlights commitments to deliver improved customer care and access to services including education, health, culture and the arts.
Inverclyde Council Depute Leader, Councillor Jim Clocherty, said: "There should be no barriers to residents seeking to access local services. The draft British Sign Language plan is a chance to focus attention on what we are currently doing well and what areas we can improve on.
"Key to any improvement is making sure that the people who rely on the support systems we plan to put in place let us know they are right and work for them.
"That is why it is important that residents who use British Sign Language help us to review the draft plan. Council officers have set up an event on 7 August and the draft plan will be published at our consultation pages on the council website with opportunities for you to let us know your views.
"The focus at the consultation event is rightly on how the council as a large public sector service provider supports residents. I would encourage other organisations and businesses to access the draft plan. It may give you ideas on making your own improvements to help make sure that Inverclyde is a great place to live, work and visit for all British Sign Language users."
The consultation event takes place on
Tuesday 7 August from 4 to 7pm
at the Lindsay Wood Room in the
Beacon Arts Centre in Greenock.
British Sign Language interpreters and electronic note-takers will be present at the event.
The draft plan will be available to view at www.inverclyde.gov.uk/yoursay and residents have until Friday 24 August to make their views known.
Page last updated: 3 August 2018