Trial of the Century for Doors Open Days
Friday 24 August 2018
The Wicked Witch of the West will be looking for justice when Inverclyde takes part in this year's Doors Open Days next month.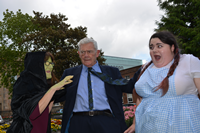 Her blue gingham-clad archenemy Dorothy will be in the dock at Greenock Sheriff Court to stand trial for stealing the ruby slippers.
The fresh take on the Wizard of Oz is just one of a wide range of children's activities running as part of the programme showcasing Inverclyde's architectural heritage.
Provost Martin Brennan said: "It is an opportunity to visit some of Inverclyde's most interesting buildings and locations which people wouldn't generally get to see.
"Greenock Sheriff Court is a great example and there will also be a wide selection of churches and historical buildings opening their doors including Wemyss Bay station.
"There is something for all the family to enjoy and I encourage everyone to get out and about to learn more about Inverclyde's magnificent heritage."
Greenock's historic Customs House is one of 28 venues taking part on Saturday 8 and Sunday 9 September 2018. Bus and walking tours are also available.
The full programme is available online at www.doorsopendays.org.uk and tours can be booked through www.eventbrite.com or calling 01475 715561
The booklet will be available at the reception of the Municipal Buildings, Clyde Square, Greenock, or at the various venues and libraries.
Photograph: Wicked Witch of the West (Eleanor Bristow), Provost Martin Brennan and Dorothy Gale (Sarah Harris)
'Jailbird over the Rainbow' will see Dorothy Gale stand trial charged with reckless endangerment and possession of stolen goods at Greenock Sheriff Court. Children in the audience – the Lollipop Guild – will be the jury.
The performance by Big Drama Llama begins at 10.30am on Saturday 8 September.
Doors Open Days is coordinated nationally by the Scottish Civic Trust. It is part of European Heritage Days alongside Scottish Archaeology Month, which is coordinated by Archaeology Scotland. Both Doors Open Days and Scottish Archaeology Month are supported by Historic Environment Scotland. Doors Open Days 2018 is sponsored by Aberdeen Standard Investments and RIAS's Festival of Architecture 2018.
Page last updated: 24 August 2018