New Start Dates for New Schools
Wednesday 21 February 2018
Pupils at three Inverclyde primary schools being transformed as part of a £270million Council investment have been told when they can expect to move in.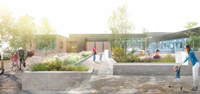 A brand new £9.2million St Ninian's in Gourock is close to completion along with the refurbishments of Moorfoot Primary (£5million) in Gourock and Lady Alice Primary (£3.8million) in Greenock.
A fourth school – St Mary's Primary in Greenock – will decant into the former Sacred Heart primary school ahead of a £6 million refurbishment.
Education & Communities Convener Councillor Jim Clocherty said: "We are approaching completion of our ambitious and comprehensive programme to rebuild and renew all of Inverclyde's schools by 2020. These are some of the last major projects currently underway and I am delighted parents and carers can now start to plan and look forward in earnest."
Both the Moorfoot and Lady Alice projects have been slightly delayed after contractors ran into unforeseen issues on-site and work was also hampered by the recent bad weather.
The delay to the completion of Moorfoot who are currently using the former Sacred Heart school building has had a knock-on effect on St Mary's Primary who are due to move in to Sacred Heart ahead of their school's refurbishment.
Councillor Clocherty added: "These are major construction projects which taken one by one would be challenging. Having three running alongside each other it is not a huge surprise that we have run into slights delays. We will continue to work closely with the contractors and schools and keep parents/carers updated while the schools are being completed. It will be definitely be worth the wait."
| | | | |
| --- | --- | --- | --- |
| School | Provisional Closure | Planned Closure | First Day in School |
| St Ninian's | 18 June – 20 June | 28 June and 16 August – 17 August | 20 August |
| Lady Alice | 30 May – 1 June | 28 June and 16 August – 17 August | 20 August |
| Moorfoot | 17 April – 19 April | 30 May – 1 June | 4 June |
| St Mary's | 30 May – 1 June | 28 June and 18 August – 17 August | 20 August |
Page last updated: 21 February 2018