Opportunities for Modern Apprentice Applicants
Thursday 19 July 2018
Young people hoping to join Inverclyde Council's successful Modern Apprentice scheme have until Sunday 5 August to apply.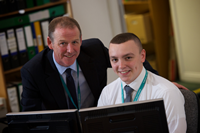 The Council is looking for committed young people to fill eight vacancies in business and administration.
Environment & Regeneration Convener Councillor Michael McCormick said: "This is a fantastic opportunity for any young person to learn real skills and gain invaluable experience - and opportunity is everything in today's job market.
"Modern Apprenticeships really can offer a head-start when it comes to employability and I hope as many young people as possible put themselves forward."
As a Modern Apprentice, the young person holds 'employed trainee status', which means they are paid the appropriate MA rate for the job – earning while they are learning.
Inverclyde Council is one of the largest employers in the area and is inviting applications for a number of Modern Apprenticeship training opportunities, which will be advertised within the local press.
Young people aged between 16 and 19 and who live in Inverclyde are eligible to apply
Further information and application forms can be found by following the link on this page.
Closing date for applications is Sunday 5th August 2018.
Page last updated: 19 July 2018