Quayside Location for Fire Engine Rally
Wednesday 18 July 2018
Inverclyde's popular Fire Engine Rally is to be held at Greenock's East India Harbour for the first time.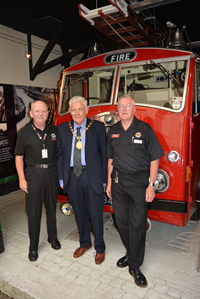 Around fifteen fire appliances will leave from the current fire station and go on display at the historic quayside.
The annual event is supported by Inverclyde Council and the Scottish Fire and Rescue Heritage Trust.
Provost Martin Brennan said: "We are fortunate to have the Trust's fantastic museum and heritage centre right here in Greenock. It is a fabulous facility and showcases the beautiful listed building and a host of vintage fire appliances and other artefacts.
"The rally is an opportunity to bring many of these appliances and artefacts out into the open for people to enjoy and perhaps be tempted to learn more about the fire service, its history and the men and women who serve us so faithfully and courageously."
The Fire Engine Rally on Saturday 28 July begins at 11am
Entry is free and there will be demonstrations including the dangers of chip pan fires and rescuing casualties from crashed cars.
A vintage ice cream van will be on hand as well food and drink plus merchandise from the Scottish Fire and Rescue Heritage Trust for sale.
John Cairns, Secretary of the Scottish Fire and Rescue Heritage Trust said: "This is an extremely popular event in Inverclyde and we hope everyone will turn out to see us again this year.
"It is a fun day out and allows people to get up close to these vintage appliances and to learn a little bit more about firefighting in Scotland in the past right up to the present."
Photograph: Provost Brennan with John Cairns and Graeme Kirkwood of the Scottish Fire and Rescue Heritage Trust.
Page last updated: 18 July 2018