Countdown to the Comet Festival
Monday 18 June 2018
Preparations for the 2018 Comet Festival Gala are well underway with organisers promising a day to remember.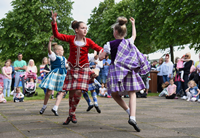 Port Glasgow's Coronation Park will host the annual event this Saturday (23 June) which includes a funfair, live music from local bands and craft and community stalls.
Depute Provost David Wilson said: "The Comet Festival is one of Inverclyde's favourite events and I am sure this year's will live up to the high standards we have all enjoyed over recent years.
"The Council works closely with the Comet Committee to ensure the event will be a day to remember and I am grateful to everyone involved in organising for their efforts.
"The Festival is a fantastic community event for both local residents and visitors to the area and I am in no doubt that this year's event will be another tremendous success."
The event gets underway at 11:00am and entry is FREE! For further information regarding the Comet Festival call 01475 712032 or visit www.inverclyde.gov.uk
Page last updated: 18 June 2018