Early Years Expansion Plans Agreed
Friday 22 June 2018
Inverclyde Council's programme to deliver double the number of nursery hours by 2020 has the potential to help close attainment and inequality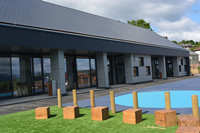 gaps.
The expansion of early years learning and childcare will be achieved with three new Council nurseries and five refurbished facilities.
More outdoor learning places will be set up and private nursery places – including childminders - increased to meet the 1140 hours target by 2020.
Education & Communities Convener Councillor Jim Clocherty said: "This is an ambitious programme and on that will be extremely challenging to deliver.
"The benefits to our children are clear to see and the aspiration has to be to use the increased hours to tackle the attainment and poverty gaps that still exist.
"Early years learning is fundamental to giving all children the best possible start in life and I am confident the quality of care we already provide will be continued."
The Scottish Government is fully funding the early learning expansion – Inverclyde Council will receive over £21million by 2022.
An additional 200 early years officers, associated managers and support staff will also be recruited by the Council.
Councillor Clocherty added: "All of this has been planned with parental choice at the forefront of every decision.
"It is a mammoth undertaking and I would like to thank everyone who has been involved for their work so far and for the effort that is now needed to implement the plan successfully."
New nurseries are:
Larkfield Children's Centre
Park Farm Community Centre
Glenpark Early Learning Centre
Refurbishments to increase capacity:
St Joseph's Primary nursery class
Blairmore Primary
St Francis' Primary
Craigmarloch ASN School
Gourock YAC
Page last updated: 22 June 2018