Top Award for Inverclyde Social Worker
Tuesday 12 June 2018
An Inverclyde social worker has taken a top honour at the annual awards recognising Scotland's social services.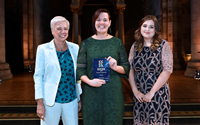 Amy McKellar – team lead for Adoption and Permanence with Inverclyde Health & Social Care Partnership - is celebrating after being recognised for her outstanding commitment to supporting vulnerable people in Inverclyde at the second annual Scottish Social Services Awards.
Her success came in the Thought Leadership category for her innovative leadership in adoption services by developing and improving the services offered to birth parents and adoptive parents, to offer more support to those who need it throughout the adoption process.
Amy said: "It was an honour to be nominated and at the event it was inspiring to hear of all the excellent work that is going on across the country.
"It was overwhelming to win the award given the high standard of all the finalists. It was a fantastic experience and I am looking forward to continuing to develop Inverclyde HSCP's support to all of those affected by adoption with the amazing team I work with, Fran Hague and Sheila McTiernan."
The awards attracted more than a hundred nationwide entries from across the third sector, independent organisations, local authorities and the NHS.
Inverclyde Council's Health & Social Care Convener Councillor Robert Moran said: "I am delighted that Amy's innovation and hard work has been recognised on a national level.
"There is so much good work being done in Inverclyde by people who are committed to improving the lives of others."
The Thought Leadership award recognises individuals who implement innovative practices in their organisations, which has brought change, which benefits the people who use the services.
The SSSA judges commended Amy for her fresh approach to the adoption services, which has had a true focus on the people who use the services at Inverclyde Health and Social Care Partnership.
Introduced just last year, the Scottish Social Services Awards aim to cut across boundaries, celebrate excellence and bring one of the country's largest sectors together.
The Birth Ties Support Project run by Inverclyde Health & Social Care Partnership Adoption Services was a finalist in the 'Making research & evidence real' category.
The Awards were launched by the Social Work Services Strategic Forum, a partnership forum of key stakeholders from across the social services sector.
There are ten categories including a special policy focus awards, Excellence in Children's Services which was judged by a panel of young people aged 15 -17 and coordinated by Children in Scotland.
The Forum was established in 2013 to develop and implement a new shared vision and strategy for social services 2015-2020. It represents a strong commitment to working in partnership across organisations and with government to deliver its vision for high quality and effective social services
Photograph: Attached is a photograph of Amy McKellar (centre) with Iona Colvin, Chief Social Work Officer (left) and Chelsea Cameron, winner of 2017 Sunday Mail Young Scot of the Year Award.
Page last updated: 12 June 2018