A Century of Commemoration
Friday 9 November 2018
Inverclyde is preparing for a weekend of events to mark the centenary of the end of the First World War.
Life-size silhouettes of WWI soldiers will hold silent vigils over war memorials in every town and village in Inverclyde ahead of Remembrance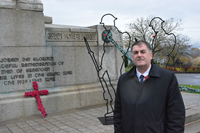 Sunday services.
The figures are part of the 'There But Not There' national campaign to commemorate the end of the 1914-1918 war and represent all of those who fought and died.
Council Leader Councillor Stephen McCabe said: "It is often difficult to imagine the human cost of the war to end all wars.
"We read the names engraved on our memorials perhaps without appreciating the real human cost of the conflict.
"These silhouettes provide a vivid and poignant image of the sons, brothers and fathers who made the ultimate sacrifice."
Lyle Hill will be the focus for Inverclyde's contribution to the national 'Battle's Over' tribute – the lighting of 1000 beacons throughout the UK, Channel Islands, Isle of Man and UK Overseas Territories.
Inverclyde's Veterans' Champion Councillor Gerry Dorrian said: "The darkness of war lasted four long years before the light of peace shone again over Britain and Europe.
"The beacons represent the light of hope and allow us to remember the millions who were killed or came home wounded.
"They will also commemorate the huge army of men and women on the home front who kept the wheels of industry turning and brought home the harvests.
"This is our opportunity to come together as a community with the rest of the country to remember the huge sacrifice in a conflict where so many lives were lost."
The Council has also joined forces with the RAF Cadets to celebrate 100 years since the creation of the Royal Air Force.
The 'Tommies' will be at war memorials across Inverclyde on Saturday 10 November at the following times:
• 10am at Quarrier's Village war memorial
• 11am at Kilmacolm Cenotaph
• 12pm at Port Glasgow Cenotaph
• 1pm at Wellpark Greenock
• 2pm at Gourock Cenotaph
• 3pm at Inverkip Cenotaph
• 4pm at Wemyss Bay Cenotaph
The Battle's Over programme on Sunday 11 November 2018 for Inverclyde:
• 06:00 – Pipers play Battle's O'er before dawn
• 10:45 – Remembrance church services
• 18:15 – Lyle Hill commemoration at Free French Memorial
• 18:55 - The Last Post played by bugler
• 19:00 - Lighting of WW1 beacon – Lyle Hill, Greenock
• 19:05 - Ringing of church bells in celebration of the end of the war
Page last updated: 9 November 2018