Bridge Repairs Postponed
Friday 12 October 2018
Essential bridge repairs along a major route through Gourock are to be postponed until January.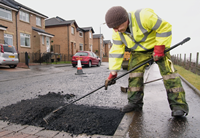 Inverclyde Council was to have begun work to remove and replace the waterproofing membrane on the bridge on Cardwell Road on Monday (15 October).
Environment & Regeneration Convener Councillor Michael McCormick said: "There will be disruption whenever these works are carried out but the simple fact is the repairs are essential and they have to start sometime.
"We have received a number of representations and have agreed to reschedule the works to allow people to better plan ahead.
"Again, these repairs are needed to protect the bridge and increase its lifespan so that more extensive and disruptive work can be avoided and must be completed in this financial year."
Repairs will also be carried out to the existing concrete bridge deck and new kerbs and pavements installed.
Page last updated: 12 October 2018