Convener Welcomes Health Centre Milestone
Wednesday 17 October 2018
Inverclyde Council's Health & Social Care Convener has welcomed the latest milestone for the new £21million Greenock Health and Care Centre.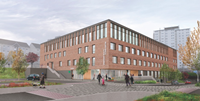 The Board of NHS Greater Glasgow and Clyde has approved the full business case which is now with the Scottish Government for consideration.
Councillor Robert Moran said: "This is the last piece in the jigsaw to deliver a new state-of-the art health and care centre for Greenock.
"I am grateful to NHS Greater Glasgow and Clyde for having faith in our determination to tackle health inequalities and to commit significant resources to better equip us to deliver.
"The new centre will give patients access to first class treatment by first class professionals in first class facilities, improving their health and improving their lives."
If approved by the Scottish Government, the centre will host a range of health and care services including:
• GP surgeries
• Sandyford sexual health services
• Community dental services
• A pharmacy
• District nursing
• Health visiting and school nursing
• Social Work – assessment and care
• Podiatry
• Dieticians
• Physiotherapy
Councillor Moran added: "The new centre will put key services at the heart of the community.
"We want people to live in their own homes where possible and receive all the care they need outside hospital and in their local communities.
"The new health centre will allow us to take a major step towards that aim."
A planning application is currently being considered for the new health and care centre. There had been concerns raised about public transport to and from the new centre and possible difficulties for people with mobility issues. The Planning Board has made it a condition that members should see and approve a travel plan before a decision on whether the application should be granted can be made.
Page last updated: 17 October 2018