Highest tax collection rate
Wednesday 19 September 2018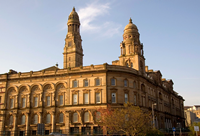 Inverclyde Council has achieved its highest ever council tax collection rate.
The amount collected during the last financial year hit an all time peak of 95.5 per cent.
A report to the council's policy and resources committee has also revealed that more than three quarters, 78.5 per cent, of council tax payments in Inverclyde are paid by direct debit.
The collection level for non domestic rates was 95.77 per cent and the council debt recovery team increased the amount collected by £209,000.
Inverclyde Council leader, Councillor Stephen McCabe, said: "The efficient collection of council tax helps to pay for the essential services our communities rely on including education, social work and roads.
"It is crucially important that debt is recovered to make sure services continue to operate smoothly. As a responsible public service, council officers involved in debt recovery also have a keen eye towards social and financial issues across Inverclyde. They work with local advice services to make sure that necessary arrangements are put in place to support residents to avoid getting into debt. "
Residents interested in signing up to direct debit for council tax bills can contact the customer service centre or download a mandate form in the 'council tax' section of the council website.
Page last updated: 19 September 2018