Road Closure Marks Latest Phase of Regeneration Project
Tuesday 11 September 2018
A major route through Greenock is to close for at least six weeks as part of a £3 million regeneration project.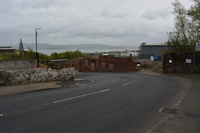 The sharp corner between Baker Street and Drumfrochar Road is being removed by cutting through the site of former industrial buildings that have now been demolished.
Baker Street will be shut between Drumfrochar Road and Ingleston Street and Drumfrochar Road will be shut between Baker Street and Lynedoch Street
The closure is scheduled to last from Tuesday 25 September until Friday 30 November.
Environment & Regeneration Convener Councillor Michael McCormick said: "We have now reached the phase of the project that people will really notice a difference.
"This is a key piece of the jigsaw towards delivering the wider regeneration of Greenock and I am sure people will appreciate a little inconvenience is worth it for the wider and long-term benefits to the area.
"This is a major investment in the area by the Council which is aimed at addressing the economic, physical and social needs of the local community."
The £3 million road realignment scheme - due to be completed in Spring 2019 - is being delivered by regeneration company Riverside Inverclyde and will also include lower kerbs, landscaping and improving sightlines. The funding includes a £300,000 contribution from Strathclyde Partnership for Transport (SPT).
A £1.8million community enterprise hub for small and medium-sized enterprises, micro businesses and business start-ups is also planned for Baker Street.
Page last updated: 11 September 2018