New initiative to tackle period poverty
Friday 29 March 2019
Free sanitary products are now being made available in all of Inverclyde's schools, libraries, youth zones and community centres.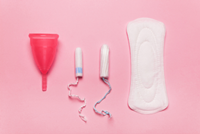 The move is part of a nation-wide campaign to end period poverty.
Period poverty is when women and girls can't afford basic sanitary products. Period poverty can have a significant impact on a woman or girl's hygiene, health and wellbeing.
In Scotland period poverty affects 20% of women and girls with many having to resort to toilet roll, socks, newspapers or an overused pad or tampon to cope with their bleeding.
On average most girls start having their periods when they are around 12 years old and stop, on average, when they are around 51 years old. During that time they will spend more than £18,000 on sanitary products.
Councillor Natasha Murphy, Vice Convener of Inverclyde Council's Education & Communities Committee and Young Peoples' Champion, said, "Period poverty is a serious health risk which also compromises a woman's dignity.
"Half of the population has periods but they are a topic that no-one wants to talk about. In the UK nearly 138,000 children have missed school because of period poverty.
"If you are female period poverty affects your education, your ability to work and your ability to socialise.
"This initiative is a hugely welcome. Girls should be able to focus on their education and their future without being worried or embarrassed about their periods. Women should not have to make the choice between putting dinner on the table and providing sanitary products for themselves and their daughters."
Sanitary products are now available in both primary and secondary schools from medical rooms, staff rooms, reception areas, pupil support areas and toilets. The products are all accessible without having to ask a member of staff and can be accessed in private.
The initiative is part of a Scottish Government scheme to provide free sanitary products in every school, college and university north of the border.
Research by Women for Independence has found:
Nearly one in five women have experienced period poverty
The most common alternative to proper sanitary products was toilet roll, with others citing rags, old clothes, T-shirts, socks and newspapers
17% said that they had at some point relied on charitable sources, such as food banks or friends, with a significant number turning to public toilets to access free toilet roll
Nearly one in five respondents said that they had had to go without sanitary products because they couldn't afford them, while one in 10 said they had been forced to prioritise other essential household items, such as food
22% of respondents reported they were not able to change their products as often as they would like to, with 11% of those describing a significant health impact because of this, such as a urinary tract infection or thrush.
Page last updated: 29 March 2019