Schools score sportscotland Gold Flag hat trick
This week sees a hat-trick for Inverclyde schools with Kilmacolm PS, Newark PS and St Michael's PS all joining the ranks of Gold Flag schools that have achieved the highest standards set by sportscotland.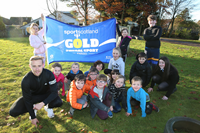 The sportscotland School Sport Award (gold, silver and bronze) is a national, Lottery funded initiative which is designed to encourage schools to constantly improve the physical education and sporting opportunities available to pupils.
The new raft of award means Inverclyde has eight gold flagged schools: All Saint Primary School, Gourock Primary School, Kilmacolm Primary School, Moorfoot Primary School, Newark Primary School, St Johns Primary School, St Michael's RC Primary School and St Patricks Primary School.
Councillor Jim Clocherty, Convener of Inverclyde Council's Education & Communities Committee said, "Academic excellence is important to us but we also recognise that education is about helping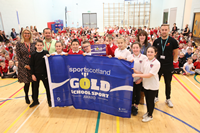 pupils become well rounded individuals who are equipped to do their best in life. Sport plays an important part in that and it's great news that three more local schools have achieved this prestigious award."
Simone McCredie, Head Teacher Kilmacolm Primary School, said, "We are absolutely delighted with this award. It recognises all the hard work of Ross Stewart (Active Schools) and the school staff who coordinate and run the clubs. Ross has engaged with the children and he has built links with local community sport groups ensuring that there is a range of sporting activities that appeal to everyone from archery to dance to tennis - there is a sporting club for everyone in Kilmacolm Primary School!"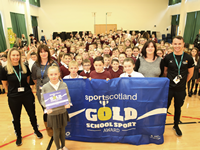 Colette Wallace, Head Teacher St Michael's Primary School, said, "We are delighted that our school has received recognition for its commitment to pupil engagement in sport. We are very proud of the achievements of our children, which have been recognised through this award, and are so grateful to everyone who has supported us throughout this journey: our staff, Active Schools, parent volunteers, Young Sports Leaders and community sports clubs. They have provided our children with a vast range of experiences both within and beyond the school day."
Lynne McGugan, Head Teacher Newark Primary School, said, "The school is committed to improving the physical and mental health of all children in the school. We have a varied and extensive range of activities available to the children. These range from breakfast clubs to lunchtime clubs to after school clubs. The children are involved in leadership through a variety of means such as our Playmakers programme and the school's sports council. Our links with Active schools have ensured we have strong links with many local sporting groups, thus ensuring Newark Primary is the sporting hub of the community of Port Glasgow."
In a gold flagged primary school:
All pupils should have access to two hours/two periods of physical education
All pupils should have access to a range of quality extra-curricular sports and activities to take part in before, during and after school
There should be clear pathways to a range of community sport opportunities to encourage life-long participation for all pupils.
There should be opportunities to compete and perform in events, festivals and competitions
Sport should be celebrated in the school at all levels at all levels including: participation, performance, spectating, leading, coaching and officiating
There should be opportunities for pupils to lead, coach, officiate and influence sport in their schools.
There should be a choice of quality physical education and sport related Career Long Professional Development (CLPL) opportunities on offer for all staff and volunteers
There should be Recognition and awards for the staff and volunteers who give up their time to support, organise or deliver extra-curricular sport and physical activity opportunities in the school.
There are 399 gold flagged schools in Scotland, 277 silver and 74 bronze.
Pictures by George Munro.