New Local Development Plan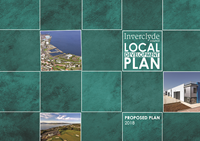 The Council is preparing a new Local Development Plan for Inverclyde.
The Development Plan Scheme and Participation Statement, which is available to download from this page, sets out the following timeline for key stages in the process of preparing the new plan.
| | |
| --- | --- |
| Publication of Main Issues Report | March 2017 |
| Publication of Proposed Plan | April 2018 |
| Submission of proposed plan to Scottish Ministers | November 2018 |
| Adoption of Local Development Plan | August 2019 |
Proposed Plan publication
Inverclyde Council published its Proposed Local Development Plan on 30 April 2018.
The aim of the Local Development Plan is to contribute towards Inverclyde being an attractive and inclusive place to live, work, study, visit and invest. It does this through encouraging investment and new development, which is sustainably designed and located and contributes to the creation of successful places.
The Proposed Plan represents the settled view of Inverclyde Council as to what the content of the adopted Local Development Plan – replacing the plan adopted in 2014 – should be. However, those with an interest in the plan can make representations setting out modifications which they would like to be made to it. Representations of support for the proposed plan can also be submitted.
The Proposed Plan, and its accompanying proposals maps, can be viewed or downloaded via the links on this page. Hard copies are also available to view at all council libraries, and at the customer service centre in Clyde Square, Greenock.
A number of supplementary guidance, background and supporting documents were also published alongside the Proposed Plan and are available to view or download from this page:
LDP Draft Action Programme
Proposed Development Site Assessment
Housing Land Technical Report
Strategic Environmental Assessment – Environmental Report
Kilmacolm and Quarriers Village LNCS Assessment
Habitats Regulations Appraisal
Equalities Impact Assessment
Supplementary Guidance on Priority Places
Supplementary Guidance on Energy
Supplementary Guidance on Planning Application Advice Notes
Supplementary Guidance on Enabling Development
A report on the consultation on the Proposed Plan was taken to the Council's Environment & Regeneration Committee on 25 October 2018.
Proposed Plan Examination
On 3 April 2019 the Scottish Government Planning and Environmental Appeals Division published the report of examination of the Proposed Inverclyde Local Development Plan. The examination report is available to view from the documents list on this page, along with a summary of the Reporter's recommended modifications. At its meeting of 2 May 2019 the Council's Environment and Regeneration Committee accepted the recommended modifications included in the examination report and the non-notifiable modifications identified by the Council. A version of the Plan incorporating these modifications has been submitted to the Scottish Ministers.
To discuss the Local Development Plan, please contact a member of the Council's Planning Policy Team:
Alan Williamson - 01475 712491
Ash Hamilton - 01475 712463
Margaret Pickett - 01475 712493
Page last updated: 3 July 2019