Chieftains over the years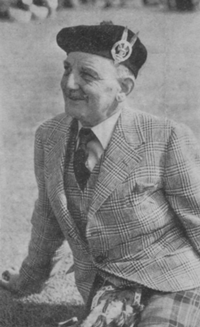 The first Chieftain of Gourock Highland Games in 1956 was Colonel Duncan Darroch, 6th Baron of Gourock and he presided over the Games for the next four years. Following his death in December 1960, his wife, Rosemary donned the role of Chieftain for the next two years. The 7th Baron, Captain Duncan Darroch, was Chieftain from 1963 until 1983.
Since 1984, a number of celebrities, local provosts, councillors and business people have presided over Gourock Highland Games and they are listed below.
| Year(s) | Chieftain |
| --- | --- |
| 1956-1960 | Colonel Duncan Darrroch of Gourock |
| 1961-1962 | Mrs Rosemary Darroch |
| 1963-1969 | Captain Duncan Darroch of Gourock |
| 1970 | No Games due to Commonwealth Games in Edinburgh |
| 1971-1983 | Captain Duncan Darroch of Gourock |
| 1984 | Jim White (Sports Correspondent) |
| 1985-1986 | Captain Duncan Darroch |
| 1987-1988 | Provost Sir Simpson Stevenson |
| 1989 | Sir Robin Duthie |
| 1990 | Jimmy Logan (Actor & Comedian) |
| 1991 | Jimmie MacGregor (Singer & Musician) |
| 1992 | Cancelled due to bad weather |
| 1993 | Peter Mallan (Radio Clyde Presenter) |
| 1994 | Cancelled due to bad weather |
| 1995 | Ex Provost JM (Ian) Fletcher |
| 1996 | Ex Provost Allan Robertson |
| 1997 | Provost Cathie Allan |
| 1998 | Ali Paton (Gladiator Siren) |
| 1999 | Gordon Wilson (Local Businessman) |
| 2000 | Andy Cameron (Actor & Comedian) |
| 2001 | Margaret McEleny (Paralympic Gold Medallist) |
| 2002 | Johnny Beattie (Actor & Comedian) |
| 2003 | Jeremy Beadle (TV Personality) |
| 2004 | Provost Luciano Rebecchi |
| 2005 | Councillor Jim Hunter |
| 2006 | Dorothy Paul (Actor & Comedian) |
| 2007 | Chick Young (Football Correspondent) |
| 2008 | Provost Michael McCormick |
| 2009 | Event Cancelled Due To Weather |
| 2010 | Andy Ritchie (Footballer) |
| 2011 | Claire Darroch-Thompson (Darroch Clan Chief) |
| 2012 | Guy Clark, Lord-Lieutenant of Renfrewshire |
| 2013 | Event Cancelled Due To Weather |
| 2014 | Provost Robert Moran |
| 2015 | Nell McFadden MBE |
| 2016 | Isabel Lind OBE |
| 2017 | Douglas Rae MBE |
| 2018 | Rhys McCole |
| 2019 | Provost Martin Brennan |