Cruise ships
Inverclyde offers a friendly welcome to passengers and crew from over 50 cruise ships to Greenock each year.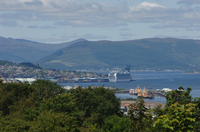 Greenock has become a signficant player in the UK cruise ship market in recent years and we now welcome almost 60 ships with over 100,000 passengers and a significant number of crew members to The Ocean Terminal in Greenock.
Inverclyde Tourist Group meets all visitors as they come through the terminal and offer free local tours, advice and information to assist them if they are independent travellers and want to explore the local area or further afield.
Page last updated: 29 November 2016