Budget Consultation/Listening Events: 2022/23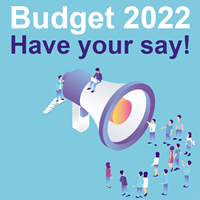 In 2019, we held a detailed, public budget consultation on our future saving options and our local communities provided really useful feedback to inform budget decisions up to 2023. However, in light of the challenges we have all faced during the ongoing Covid-19 pandemic, we are looking once again to listen to local communities about future saving areas.
Inverclyde Council in partnership with the 6 locality based Communication and Engagement groups are encouraging residents to have their say with regards to potential budget saving areas for 2022/23. There will be 6 locality based listening events that residents can book a space in order to attend:
| | | |
| --- | --- | --- |
| Date | Time | Locality |
| 13 January 2022 | 6.30pm | Greenock South/South West |
| 17 January 2022 | 6.30pm | Inverkip/Wemyss Bay |
| 18 January 2022 | 6.30pm | Greenock West/Gourock |
| 19 January 2022 | 6.30pm | Port Glasgow |
| 20 January 2022 | 6.30pm | Greenock East/Central |
| 24 January 2022 | 6.30pm | Kilmacolm and Quarriers Village |
Attending one of the above listening events will provide you with an opportunity to hear from Inverclyde Council Senior Officers on the financial challenges the Council is facing and its ideas for saving money. You will then have an opportunity to have your say on what services and saving areas the Council should consider. It is important for the Council to listen to residents' views when it is planning its services.
The events will take place electronically and support can be provided to make sure you can access the meeting. To book your space in order to have your say, please click on the Eventbrite link available within the other website section of this page.
If you are unable to attend any of the above events, you can still have your say by completing the survey which can be found within the other website section of this page. The Survey will close on the 26th January 2022
Paper copies of the survey can be accessed via your local library.
If you require digital support or any other support please contact 01475 715450 and a member of staff will be allocated to ensure that you have the opportunity to have your say!