Levelling up Greenock Town Centre
Greenock Levelling Up Bid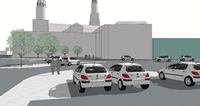 Inverclyde Council is promoting an ambitious bid to the UK Government's Levelling Up Fund to transform the heart of Greenock Town Centre.
The proposals would create new civic spaces, a restructured more outward looking town centre retail offer, improve links between various parts of the town centre and the waterfront and build in capacity for a new education/college facility and town centre housing.
To do this a funding bid has been prepared to the Levelling Up Fund which would remove the A8 flyover brining the road to ground level to increase access, remove the Bullring Roundabout, Hector McNeil House and 40% of the existing indoor retail space in the Oak Mall.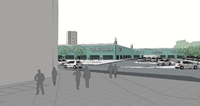 This would be replaced by a low level trunk road which does not split the town centre in two with easier access to the town centre for visitors and residents.
It would allow the Oak Mall to be restructured as an outward looking Retail and Leisure Quarter recreating a functional heart to the centre.
It would create space for a new learning quarter and campus anchored on a new college facility and the existing Greenock library alongside opportunities for new town centre homes. It would also create opportunities for a new cultural centre and quarter in the town centre around the Glebe Building.
It would allow for the creation of a new open civic area in the town centre creating to be more welcoming to visitors and residents and improved connections between the town centre and the waterfront.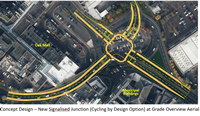 What would it look like?
The road network
The existing Bullring Roundabout would be removed with a new signalised junction created.
The flyover which takes the A8 above the existing Oak Mall would be brought down to ground level to create easier access into the town centre.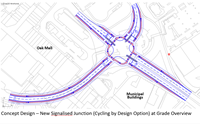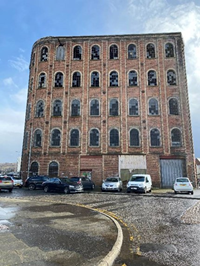 A new cultural centre
Acquisition of the Glebe Building, making it wind and watertight and stabilising the internal fabric for cultural lofts. The ground floor of the building could be made available for office development as part of Phase 1 and exploration of a museum gallery space as part of a cultural quarter development.
How much will it cost?
Levelling Up bid
The total project cost is £21.589m.
The Levelling Up bid from Inverclyde Council would seek £19.589m from the UK Government towards the project with in-kind support from the Oak Mall allowing asset/land transfers to support the delivery of the project and £2m from Inverclyde Council.
When will this happen?
With any construction project of this scale there are a large number of moving parts and partners involved but if the Levelling Up bid is agreed in full, the completion of construction works could be by March 2025 with construction starting in October 2023.