New participatory budgeting scheme (CLOSED)
Inverclyde Council is asking local people to come up with ideas on how budget can be spent in their communities.
A new participatory budgeting scheme is being trialled across Inverclyde where up to £50,000 in each of the area's seven wards is being made available.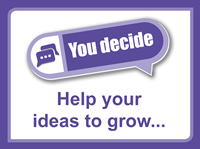 Council Leader Councillor Stephen McCabe said: "Participatory budgeting is a way for people to have a say and to vote directly on how local money should be spent.
"Ideas are put forward about how a budget should be spent with people voting for their priorities. "The projects with the most votes get funded.
"These could be anything from healthy eating to youth work but ultimately the process is about bringing people together, getting them more involved in decision making and democracy."
Initially £350,000 is being made available - £50,000 for each of Inverclyde's seven wards – for local groups and organisations to apply for up to a maximum of £25,000.
You can only apply for one of our grants if:
• You are based and provide services in Inverclyde
• Organisations must be based in the Council Ward for which they are applying for funding – only one application per organisation/per Council Ward will be accepted.
• You are a non-profit group
• You have a constitution, set of rules or Memorandum and Articles of Association which is dated and signed as 'adopted' by an office bearer on behalf of your group
• You have a bank or building society account which requires at least two signatures on each cheque or withdrawal
• You can spend the grant within one year of the date of our award letter
• Your organisation is registered with Inverclyde Council
The closing date for applications has been set for 12 noon, Friday 23 November 2018.
Further information and support can be obtained from CVS Inverclyde by calling 01475 711733 or by e-mailing admin@cvsinverclyde.org.uk or jackie.fallon@inverclyde.gov.uk
Page last updated: 30 January 2019