Standardisation of Parking in Inverclyde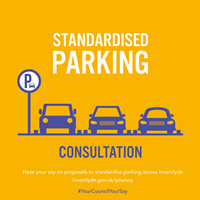 Following feedback from the public, traders of the town and village centres and visitors we are considering standardising parking restrictions and charges throughout Inverclyde.
These changes would, if agreed, make it easier for everyone including visitors to understand, would help promote recovery of town and village centres through turnover of spaces, would help increase footfall and it would support shop local campaigns.
The number of free spaces would also increase along with options to stay longer.
In the 'documents' section of this page you will see maps showing the current and proposed restrictions for Gourock, Greenock, Kilmacolm and Port Glasgow.
These are also available to see on the consultation questionnaire which you can visit by clicking the link on this page listed under 'other websites' to have your say.
The closing date for responses is Friday 26 August 2022.