Holiday Childcare Hubs
Autumn Holiday Hubs 2021
Holiday hubs are opening during the October break with fun activities on offer to keep young ones busy.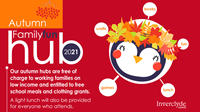 Families in Inverclyde are being encouraged to book a place on the holiday hubs which are open for children and young people aged 5-18 years. The hubs are free of charge to working families on low income and entitled to free school meals and clothing grants.
The holiday hubs will operate from Monday 11 October until Friday 15 October 2021, with sessions running from 9.00am until 4:00pm (3.30pm on Friday).
The holiday hubs will provide support for working families, allowing parents and carers to continue work during the school holiday period. Free lunch will be provided daily.
Eligible families will receive the forms from their child's school group-call system and completed forms should be submitted to Affordableholidayhubs@inverclyde.gov.uk by Wednesday 29 September 2021.
Child Poverty legislation states that the focus of attention, while addressing child poverty, should be placed on families identified as most vulnerable. That is: families with younger parents; single parent households; larger families; and families with a disabled person in the household.
Inverclyde Council aims to improve life chances of all children, young people and families. This service will contribute to this aim allowing children and young people to engage in a wide variety of activities and meet new friends in a fun and safe environment.
The young people will have access to a variety of resources and activities such as; sports and physical activities, cooking and baking, creative arts and crafts, outdoor play and adventures & much more.