West College Scotland Courses January 2022
Community Learning and Development are delighted to be working in partnership with West College Scotland on a range of new online tutor led SQA Level 5 courses for Inverclyde residents including employees of Inverclyde Council and HSCP.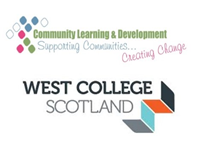 The courses are all FREE of charge, will run between 12 and 16 weeks and will be delivered online via Microsoft Teams.
To sign up for the courses noted below and for more information please contact us via the links noted on this page. Community Learning and Development will work closely with the college to support any learners who require additional support to enable them to complete any of the courses on offer.
Development and Wellbeing of Children and Young People (Child Development)
Tuesday 6.30pm - 9pm starting 18th January 2022
This Unit is designed to introduce learners to the principles of development and wellbeing of children and young people. Learners will learn what is meant by sequences and patterns in child development and the inter-relationship between all aspects of that development. Learners will also learn about the wellbeing of children and young people and how a variety of factors may affect their development. This unit is part of an NPA which would be ideal for you if you are considering a career in Childcare or Social Care.
Cyber Security – Fundamentals
Wednesday 9.30am - 12noon starting 26th January 2022
The Unit introduces a range of basic knowledge and skills relating to cyber security. The learner will gain a basic understanding of the importance of online safety; common threats to individuals, businesses and nations; and preventative methods that can be used to reduce the risk of cyber-attacks. Learners will gain practical experience of protecting personal digital devices, such as a smartphone or personal computer. The role of social engineering in cyber-attacks and the implications of cyber threats for personal privacy are explored.
Front of Office Skills
Tuesday 9.30am - 12noon starting 25th January 2022
This Unit is designed to enable candidates to develop the necessary knowledge, understanding and skills required to work in a front of office environment. They will have to communicate effectively with visitors and colleagues in person, by phone and using other electronic methods of communication. On successful completion, candidates will understand the role of reception and the procedures involved in its maintenance.
Counselling: An Introduction
Tuesday 6.30pm - 9pm starting 25th January 2022
This Unit has been designed for candidates who have no previous experience of counselling. The Unit will introduce candidates to the purpose and basic concepts and processes of counselling including reflective practice. On successful completion of the Unit the learner will be able to:
1. Investigate the aims and purpose of counselling.
2. Describe the counselling process.
3. Participate in a role play activity to counsel a client.
4. Reflect on own counselling skills.
Criminology: The History and Development of Criminology
Thursday 9.15 - 12.15pm starting 13th January 2022
This unit is designed to introduce learners to the historical development of criminology as an academic discipline. The learner will develop an understanding of the wide and varied development of theories and concepts concerning the nature of crime and the criminal throughout time. The intention is to provide a general introduction to the broad development of the usefulness of the discipline in explaining crime and criminality rather than an exhaustive analysis.