Road safety education
The Road Safety Officers provide resources and information on road safety for residents throughout Inverclyde Council.
Early Years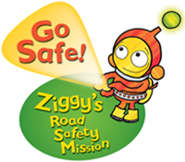 Learning to be safe on the roads is a life-long process. We work in partnership with pre-school groups and nurseries to begin introducing very young children to the language of road safety. All groups have access to 'Go Safe! – Ziggy's Road Safety Mission' – the pioneering new road safety approach aimed at children from birth to six and their parents and carers.
Primary Education
A great deal of work is delivered through our primary schools. A full range of activities and resources are available for schools to help children develop their road safety awareness. Practical training in the form of pedestrian training and cyclist training takes place giving children the chance to encounter real road situations in a controlled environment. If these skills are practised over a lifetime then this should enable them to become safe independent road users.
All schools have access to the comprehensive road safety resource Streetsense 2 and www.streetsense2.com. These are linked to the Curriculum for Excellence and are designed to provide a full programme of road safety for Early, First and Second level stages. The Road Safety Officers also manage the Bikeability training scheme for young cyclists in Primaries 5 and 6.
Our schools also participate in the JRSO ( Junior Road Safety Officers) Scheme which allows senior pupils to get more actively involved in promoting road safety in their area.
Secondary Education
It has been recognised that one of the most dangerous stages in a child's development is the transition from Primary to Secondary school. To make children more aware at this time we use Theatre in Education to get this message over in an innovative way. All schools have access to 'Your Call' (S1-S3) and 'Crash Magnets' (S4-6) – resources which engage young people in the issues related to cycling, distraction in the road environment and being a newly qualified driver with friends as passengers. These resources are available on the Road Safety Scotland website.
In Car Safety
We offer advice to parents regarding in-car safety for babies and young children and will also check the fitting and suitability of child car restraints. Common faults found include buckle crunch, incorrect routing of the seatbelt or harness being fitted wrongly. Car seat clinics are held throughout the area, further details will be given through local media.
Young Drivers
Inverclyde Council is committed to ensuring safety on and around the roads for everyone living, working, or visiting Inverclyde. This commitment is now being fully supported by providing a financial incentive to all 17 – 25 years who passed their driving test within the last year and are resident in Inverclyde. Pass Plus is an additional course aimed at new drivers who would like to further improve their confidence and driving skills after passing their practical test and funding towards the cost is available to eligible residents. You can find out more details about applying for the grant by completing the online application linked on this page or contacting the Community Safety Team to speak to a Road Safety Officer.